Laura Moore's new Silver Creek series starts off on the right foot. Once Tempted is a sweet and tender romance that will pull you in and won't let go. A cast of lively characters with witty dialogue will leave you eagerly awaiting the next book in the series.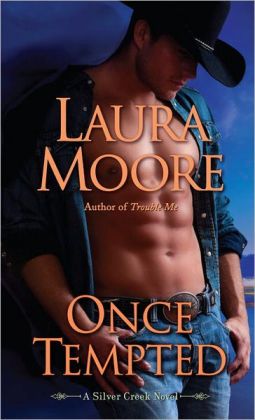 Tess Castelli's estranged husband has recently passed away and she feels the need to get away for a while. Her friend Anna comes up with a plan to help Tess find just the right destination. With a map and a blind fold, Tess points her finger and it lands on Acacia, California. Tess then decides to pack up and head for Acacia.
Once she reaches Acacia, Tess starts looking for a job. She is pointed in the direction of the Silver Creek ranch. When she arrives at the ranch, her car is on it's last leg. It is spitting and sputtering and blowing out black smoke. To Tess' chagrin a man walks up to the car and puts his hand in the window and shuts the car off. The infuriating man turns out to be the ranch owners son Ward. To say the least, Tess and Ward are off to a rocky start.
Luckily for Tess, Wards mother Adell Knowles, is looking for an assistant and she hires Tess on. At first Tess has a hard time with ranch life. She has always lived in the city and has never really been around animals. Ward is only too happy to show Tess what living on a ranch can be like. There are sparks between the two from the beginning, but they are both afraid of trying a relationship again.
They both agree on a friends-with-benefits type of relationship and at first it seems like all is going well for the couple. But as time goes on, it is apparent that the two have feelings for one another. Just when things start to look sunny for the couple, Ward's ex-fiancée steps into the picture and decides that she wants Ward back. Will Ward and Tess' love for one another be strong enough to combat a woman on a mission to win back her ex-lover?
Ward is a sexy, seductive, brooding cowboy. He is just what Tess needs in her life. He is compassionate and insightful. His love for Tess is apparent in all that he does for her. He and Tess have sexual chemistry that sizzles and sparkles.
Tess is a firecracker waiting to go off. She is brave beyond compare. I don't know many people who would drive cross-country all alone to start over. Tess deserves the love of a good man and Ward certainly fit's the bill.
If your looking for a deeply satisfying love story that is hard to put down, look no further than Once Tempted. Laura Moore writes an unforgettable tale that will keep you entertained throughout. You will be left with a smile on your face!
Book Info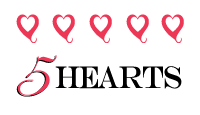 Publisher: Ballantine Books Release date: March 26, 2013 | Series: Silver Creek
Sweeping passions, family drama, and searing scandal play out at the magnificent Silver Creek Ranch as the heirs to a powerful dynasty seize their legacy of love.
Oldest son Ward Knowles feels the sprawling California ranch in his blood. And now that the family business has expanded to include a popular resort, he's working harder than ever. Silver Creek is his legacy and his life, which is fine for the ruggedly sexy ladies' man and committed bachelor. Love and trust don't come easily for Ward since he lost his heart to a gold digger—until he meets a shy, unpretentious beauty whose sweet grace is about to turn his jaded heart into a hungry one.
Tess Casari has found sanctuary at Silver Creek, working as an assistant to Ward's mother, Adele. Grateful for her busy new life running the ranch's spa and resort, Tess can escape the heartbreak, humiliation, and secret shame of her failed marriage. The last thing she needs is temptation—especially from a man who reminds her so much of the husband who shattered her faith in love. But passion and destiny are about to change the rules for two people who have stopped believing in the healing power of love.