Beneath the Patchwork Moon (Hope Springs, TX #2): Alison Kent seamlessly wove a tapestry of desperation, heartbreak, and tragedy. Beneath the Patchwork Moon is a realistic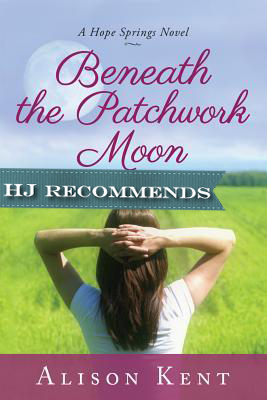 tale of young love, secrets, and second chances. The charisma and emotion ingrained within this reunion story is very impressive.
Luna Meadows is haunted, maybe even trapped, by her past. She has lived her entire life, sheltered, in the small town of Hope Springs. Ten years have passed since the accident that forever altered her reality and shaped her future. Determined to honor Sierra's memory, Luna started a non-profit organization. The proceeds will fund the Hope Springs local community arts center. However, this decision has other unforeseen consequences – it brings her first love back into her life. Luna is a distinctive heroine; it took me a while to figure out exactly what made her so unique. I will not spoil it for future readers by sharing what I discovered. Just know that Ms. Kent did a fantastic job creating Luna and I hope everyone enjoys her story as much as I did.
It has been eight years since Angelo Caffey last saw Luna. It was his choice, but now all these years later he questions that choice. When he learns that Luna is converting his childhood home into an art center he knows it is time to return to Hope Springs. He is unprepared for the memories that assault him upon his return. I love the intensification that Angelo brought to the story – his flaws and vulnerabilities perfectly complemented his strengths.
This very intensive read is worthy of a high recommendation. However, I would have a light fluffy read on standby because this one left me emotionally wrecked.
Book Info:

Published March 4th 2014 by Montlake Romance | (Hope Springs, TX #2)
Transforming the old Caffey property into Hope Springs's new community arts center won't be easy for celebrated weaver Luna Meadows, but she sees it as a labor of love. The center will honor Sierra Caffey, the best friend Luna lost years ago in a car crash. But when Angelo Caffey – Sierra's older brother and Luna's first love – returns to his family's former home demanding answers, Luna must also face her long-buried feelings for him.
Angelo left Hope Springs – and Luna – eight years ago. Handsome and headstrong, he suspects the beautiful Luna harbors a secret about the accident. Yet despite his best efforts, he can't resist the heat that still simmers between them.
Will the untold truth shatter their future? Or could a new beginning lie within the tangled threads of their past? Part of the Hope Springs series, this charming romance follows two broken hearts on their long journey home.