In Primal Instinct by Janie Crouch, FBI Special Agents Connor Perigo and Seth Harrington are on the hunt for a serial killer, known only as Simon Says. With no leads, frustration mounts, and the decision is made to bring in a consultant, an outsider, to generate a profile. Chief Kelly has a specific profiler he wants them to recruit. He warns that she is will be reluctant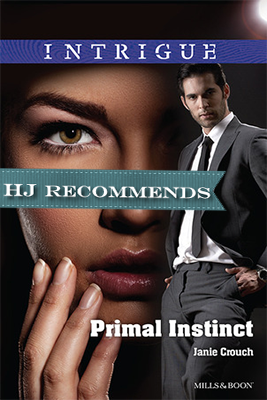 to assist, but they are to use any means necessary to gain her cooperation – including blackmail.
Adrienne Jefferies, the Bloodhound, quit the FBI eight years ago but during the two years she was employed by the bureau she was accredited with assisting in the closure of unprecedented thirty-seven cases. However, she was naive about the personal cost of using her gift so hastily. The author put a lot of complexity into this character – I would love her to see her play an active role in future books.
Connor is skeptical of Adrienne's, as she refers to them, freakishly awesome, crime-fighting superpowers. As a veteran FBI agent, he knows that solving cases takes hard work with a smudge of luck – not that woo-woo psychic shit. He balances the complexity of Adrienne's character with his unpretentious wit and confident charm.
As a debut novel for author Janie Crouch, I was pleasantly surprised by how thoroughly everything was contained. While the plot is not 100% original, she twisted it just enough to make it unique. This romantic intrigue has incredible dialogue, vivid descriptions and the secondary characters were well supported.
Book Info:

 Publication: April 1st 2014 by Mills & Boon Intrigue
A killer stalks the city streets, and one FBI agent is determined to bring him down in Janie Crouch's Primal Instinct.
On the crowded streets of San Francisco, a serial killer watches and waits. Known only as "Simon Says," he lures his next victim while the FBI grasps for answers. Desperate, they turn to Adrienne Jeffries. Adrienne has an uncanny talent for getting inside the city's most dangerous minds. But first she'll have to get past FBI agent Conner Perigo. Skeptical of Adrienne's abilities, Conner begrudgingly enlists her help…unprepared for the powerful attraction that could jeopardize their focus. With little time, and everything to lose, they must work to find Simon's next victim—before he does.