Kate Hewitt's Beneath the Veil of Paradise offers readers a compelling story in which hedge-fund manager Millie Lang and successful, self-made architect Chase Bryant meet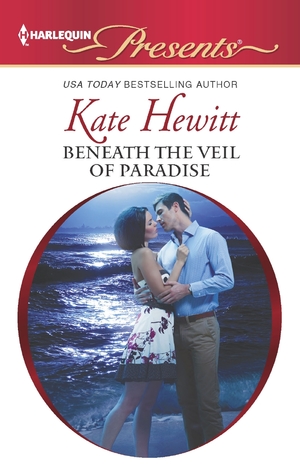 and strike a sexy vacation bargain in tropical surroundings meant to last for a brief time only:
"'You give me one week" … He leaned forward, the urgency and excitement he field coming out on his voice, his body. He felt it thrum between them with the pulse of an electric current. 'One week. Seven days. But you give me everything, Millie. You give me all of yourself, no holding back, no hiding, All in. And in return I give you mind-blowing.'"
But Millie battles a painful past and Chase struggles with fears of the future. What begins as a no-strings sexual affair quickly morphs into something deeper — and more challenging — for them both. If you enjoy passionate stories in which hero and heroine must both confront very real demons in order to move forward, then this story is for you.
I like the way in which Hewitt is able to convey the strengths and vulnerabilities of both characters, while still remaining true to the Presents traditions of a strong, though vulnerable, heroine and an alpha male hero who still possesses a sensitive side. She also provides Millie and Chase with convincing back stories for the obstacles they must seek to overcome; they're not the usual clichés of a lot of romances.  Millie's and Chase's histories are revealed gradually to the reader in much the same way that they reveal themselves gradually to one another — all while the (hot) sexual energy and emotional connection between them grow. Kind of makes you want to book a flight ASAP to a tropical locale in search of what Millie and Chase find!
I note that in addition to the two protagonists, there are enough siblings waiting in the wings to generate their own Presents stories. If Beneath the Veil of Paradise is part of a Hewitt series, I'll definitely read the others!
Rating:
Publisher: Harlequin Presents (January 1, 2013)
Having a passionate affair on a desert island was not something Millie Lang ever thought she'd do….Since tragedy struck her life, Millie has cocooned herself in her work, leaving no time to think or feel.Chase Bryant has his own reasons for escaping it all. As long as they both know this paradise is just for one week with no messy emotions, all should be fine.
But neither of these two damaged souls is ready for the Pandora's box of emotions that their intense passion unleashes….