In Best Beach Ever (Ten Beach Road #6) by Wendy Wax, It's been a long road for Maddie, Kyra, Nikki,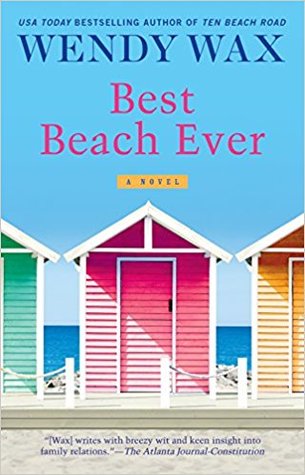 Avery and Bitsy to get to where they are today. And sadly, part of that is saying goodbye to the building that brought them all together: Bella Flora. With an unknown person renting it out for the next six months, it gives Kyra a much needed financial boost, but she'd rather be the one waking up in the beautiful house every morning. Not some interloper. And when the mystery person's identity is revealed? Shock and dismay is all Kyra can feel. She's not sure of her tenant's intentions, but with an upcoming movie to prepare her young son for, she's in over her head with stress, struggling to make sense of her life again.
"I'm very grateful that we're close enough for you to want my advice. And honored that you think I'm 'wise and together.'" A smile twisted Maddie's lips. "Guess I fooled you."
"Completely. And here I thought for sure you had all the answers." Kyra's teasing tone turned into a sigh.
Maddie tries to always be there for her daughter Kyra and the close friends they've made through Bella Flora, especially since they had to move into the Sunshine Hotel cottages. But now it's her time to pursue her own future. Namely, figuring out her relationship with her rock star guy, Will. Somehow, though, once a mom, always a mom, and she finds herself doling out advice to everyone around her, taking on their problems and wanting to run back to be there for her family and friends. In her absence, Nikki, Avery, Bitsy and of course Kyra are all learning to stand on their own feet with mixed results. It's when they come together as friends, shoring each other up, that they begin to make headway in their personal lives again, hopefully making Maddie proud with their focus on the positives–not negatives–in their situations.
"You can't build a relationship on words or excuses or explanations," she said. "The time has come to do what even writers, who deal in words all the time, struggle to learn: show don't tell."
The lovely ladies of Ten Beach Road were back in Best Beach Ever–and every single one of them were facing a personal challenge of some sort. Written with Wendy Wax's lush descriptions of Florida's gorgeous beaches, her trademark mix of humor and drama, this proved to be one seriously heartfelt novel that will be difficult to top.
"I think we need to devise a secret handshake or password and maybe even a signature cocktail for the Still-Standing Sisterhood."
"It does have a ring to it," Bitsy agreed as they drank.
Wendy Wax didn't pull any punches in this sixth installment in her super popular Ten Beach Road series. I'm not kidding when I say every character faced down their own issues this time around. But thankfully things not only ended on a positive note for them all, but the camaraderie, the self-discovery, and the entertaining antics took center stage just as they should have. Having said that, I think this series is best read in sequential order, or at least check out a few of the books before jumping in here. It will really create a picture of how each woman got to this point in their lives and why the choices they faced here were so difficult for some of them.
I won't get into too many particulars so I don't spoil the story itself, but I can say that Maddie, Avery, Kyra, Bitsy and Nikki were their charming selves who, of course, were not immune to making some blunders. Even though it was tough to see them having moved from their beloved Bella Flora to the Sunshine Hotel cottages, dubbed Bestie Row, I kind of loved that they were all pretty much in one location again, meeting up at sunset most nights for their One Good Thing toasts. There were some really fun surprises with an unexpected love interest for one lucky lady, a nanny who rivaled Mary Poppins, lots of drama including fiery dynamics on a movie set, and lastly, closure for a few ongoing issues. It really felt like this particular book finished on a high note for everyone. I haven't heard that this was the last in the series, so I hope there will be more, but if it is the end, I think fans will be happy with it.
The perfect book to take along on your way to the beach or the pool, Best Beach Ever gave light to the truth behind how female friendships can improve our lives, help us learn more about ourselves and sort through family problems–all with a comforting shoulder to lean on.
Book Info:

Publication: Published May 22nd 2018 | by Berkley | Ten Beach Road #6
In the latest Ten Beach Road novel, Maddie, Nikki, and Avery all move into cottages at the Sunshine Hotel–and in this charming new location, begin to pursue daring dreams.
After giving up their renovation-turned-reality-TV-show Do Over, the ladies of Ten Beach Road move into cottages at the Sunshine Hotel and turn their beloved Bella Flora over to its wealthy mystery tenant. Now, each woman will be forced to reexamine and redefine her life, relationships, and dreams.