Today, HJ is pleased to share with you

Amy Mason Doan's

new release: 

The Summer List

In the tradition of Judy Blume's Summer Sisters, The Summer List is a tender yet tantalizing novel about two friends, the summer night they fell apart, and the scavenger hunt that reunites them decades later—until the clues expose a breathtaking secret…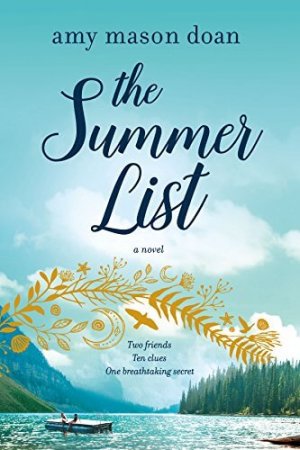 Laura and Casey were once inseparable: as they floated on their backs in the sunlit lake, as they dreamed about the future under starry skies, and as they teamed up for the wild scavenger hunts in their small California lakeside town. Until one summer night, when a shocking betrayal sent Laura running through the pines, down the dock, and into a new life, leaving Casey and a first love in her wake.

But the past is impossible to escape, and now, after seventeen years away, Laura is pulled home and into a reunion with Casey she can't resist—one last scavenger hunt. With a twist: this time, the list of clues leads to the settings of their most cherished summer memories. From glistening Jade Cove to the vintage skating rink, each step they take becomes a bittersweet reminder of the friendship they once shared. But just as the game brings Laura and Casey back together, the clues unravel a stunning secret that threatens to tear them apart…

Mesmerizing and unforgettable, Amy Mason Doan's The Summer List is about losing and recapturing the person who understands you best—and the unbreakable bonds of girlhood.
Enjoy an exclusive excerpt from The Summer List: 
September 1996

Casey and I did walk to school together the first morning, just like my mother had commanded back in June. We arranged to meet at the gazebo in the park at 7:45, and everything about it felt strange.
It was strange to see Casey on land. It was strange to see her in jeans. It was strange to see her with her hair brushed.
When I walked over I found her using a stick to pick a tile from the crumbling old mosaic inside the gazebo. "A little first-day-of-school gift for you," she said, handing me the small green square. "For good luck."
"Thanks." I dropped it in my pocket, next to my Ziploc.
We walked up the shoulder of East Shoreline Road to town, Casey kicking pinecones and chattering, asking about every backpacked kid we saw on the way, me dragging my feet and answering in monosyllables.
Her whispered questions started out genuine. "Are they a couple? Is that girl on the bike a freshman?"
When we were so close we could see the brick and white plaster of CDL High through the pines, she finally picked up on my death-row vibe and tried to make me laugh.
About a pasty guy in a skull T-shirt taking last-minute drags off his cigarette—"That's the school nurse, right?"
On a sour-looking teacher in the parking lot wearing an an¬kle-length black skirt and a curious, drapey gray cardigan—"Ooh, I like the cheerleading uniforms."
I could manage only a tight smile.
I'd dressed carefully, in a denim skirt and my blue peas¬ant shirt. As we walked up the broad brick steps together, sur¬rounded by keyed-up, tanned kids, I tucked my blouse in and tugged it out for the hundredth time.
"You look great," Casey said. "Don't be nervous."
"I'm not nervous."
"Yes, you are. You're petrified. I'm the new girl. I'm the one who's supposed to be nervous."
Then, too soon, we were in the auditorium with the entire school—240 students. A puny enrollment by California stan¬dards, but we could still barely hear each other. We had to get our locker assignments and ID pictures, and I was a C and Casey was an S, so our lines were on opposite sides of the room.
"Meet me outside the cafeteria at lunch?" she shouted.
I nodded. We only had two classes together. PE and study hall, both in the afternoon.
Casey started to walk toward the R through Z line. But then she turned back to me and whispered, leaning close, "Is it your boobs?"
"What?"
"Is that what they tease you about?"
"What do you…"
She kept her voice low as the wave of kids parted around us. "You always hunch. You wear those baggy old-man T-shirts instead of a bathing suit. I know you hate school, you've been dreading it all summer, and you won't talk about it. So is that it? Or is there more?"
I managed to look down at my extra-blousy blouse and say, "They don't help."
She didn't laugh. She just squeezed my wrist and said, "I'll kick their asses if they mess with you. See you at lunch."
I nodded and let the other kids pour in between us, so re¬lieved I could have cried.
Excerpt. ©Amy Mason Doan. Posted by arrangement with the publisher. All rights reserved.


Giveaway:

Enter to win 1 of 5 copies of THE SUMMER LIST by Amy Mason Doan. (U.S. and Canada)
To enter Giveaway: Please complete the Rafflecopter form and post a comment to this Q:

What did you think of the excerpt spotlighted here? Leave a comment with your thoughts on the book…
*Rafflecopter is hosted and run by Harlequin Books.

Meet the Author:
Amy Mason Doan earned a BA in English from UC Berkeley and an MA in journalism from Stanford University. She has written for the Oregonian, the San Francisco Chronicle, and Forbes, among other publications. She grew up in Danville, California, and now lives in Portland, Oregon, with her husband and daughter. The Summer List is her first novel.