Best Laid Wedding Plans by Karen Booth: Autumn Kincaid is a wedding planner whose skills are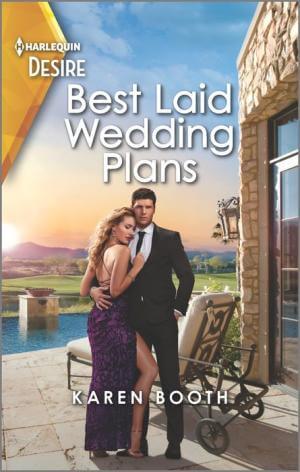 in question after she's jilted at the altar of her own wedding. She wants to prove herself as the wedding planner for Moonlight Ridge, that caters to all sorts of special events. The other strike against her, that is causing some clients to back out, is the scandal her father has caused. Grey Holloway's family owns the resort and he and his brothers have been taking turns running things after their father became ill and is recovering. Grey is put in charge of overseeing Autumn's work and continuing to look into the other issue of finances that don't add up.
Autumn thinks of herself as an optimist, despite some setbacks. It is hard to work with Grey who tends to be grumpy. Maybe she can prove herself by regaining a prize client and planning the wedding for Grey's brother Mack and fiancee' Molly.
This novel is the second in a series. It would be best to read the first before this one. There is more in it about patriarch Jameson and how the brothers came to be at Moonlight Ridge. This second story truly builds on the first with characters as well as situations and setting. It's amazing how this trilogy is written by three different authors and there is perfect continuity between #1 and #2.
You have to admire Autumn. She is able to go forward without being whiny or depressed. She is a very caring, loving person. Grey is a bit more subdued and business-like. He knows he owes his father, but he has plans to return to his own business eventually.
Jameson has Giada helping him during his recovery and cooking Sunday lunches for him and his two sons. It is cute how Jameson is so attracted to Giada despite her keeping him away from his vices.
With Best Laid Wedding Plans being part of Harlequin Desire line, the reader knows it will be a steamy story. Grey tries to avoid his desire for Autumn, but she is so hard to resist.
Brother Travis comes into the story near the ending. We are promised his story and the continuation of events at Moonlight Ridge in book #3.
Book Info:

Publication: August 24, 2021 | Harlequin Desire | Moonlight Ridge #2
Can an unlucky-in-love wedding planner convince a grumpy billionaire that love is real and save her job? Find out in this Moonlight Ridge novel by Karen Booth!
"You could use a lesson in
giving in to temptation."
But who's Autumn Kincaid to talk? Her reputation as a wedding planner is on the line after she's left at the altar. So is her job at Moonlight Ridge—unless she proves herself to grumpy Grey Holloway, whose family owns the resort. Grey doesn't even believe in true love. She has to convince him romance is real, that all he needs is to give in to the heat threatening to burn them both. Maybe this time Autumn will get her own happily-ever-after…or is this just another best-laid plan?