In Fated Hearts (Southern Bride #8) by Kelly Elliott, When lawyer Roger Carter's flight home to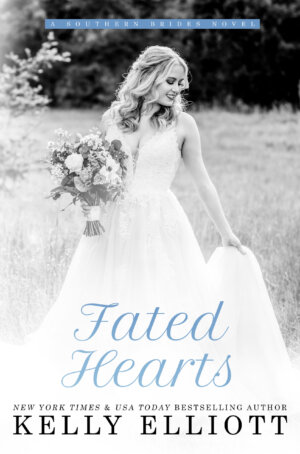 Texas is delayed indefinitely due to a snowstorm, he figures it means spending a boring day or two in a Chicago hotel. It proves to be anything but boring. Because after falling into a dead sleep, Roger is woken up by the most beautiful woman he's ever seen. Annalise Michaels claims the room is hers. Okay, demands is more like it. As it turns out, the hotel room is actually in *both* of their names. Roger is more than okay with spending more time with Annalise. Especially once they get past their first frosty exchange and get to know each other. She's fun, as competitive as he is, and someone Roger could see himself falling for easily. Good thing they only have a couple of days stuck in Chicago together.
'Things were getting too complicated. My feelings for her were growing into something I could not allow.'
Annalise was shocked to see a (stunningly handsome) naked man in her hotel bed when she finally got to her room. Although, she can't say she's sorry she's now trapped in the snowy city for a short while with Roger. After the initial shock wears off, Annalise has the time of her life with the Southern lawyer–and learns that he's got a dirty mouth to match his delicious, dirty thoughts. She's never felt such strong chemistry with someone so quickly. And even though it scares her a bit, Annalise would love to see where things could lead. But Roger makes it clear he's a casual relationship kind of guy. Then fate throws them in each other's path again. It leaves Annalise to wonder if they might just be destined to be together after all.
'I somehow knew I was meant to meet him. We were meant to spend those few days stuck in this hotel together. Crazy as it sounded, I felt it in my very soul.'
As sad as I am to see Kelly Elliott's Southern Bride series end, I don't think we could have asked for a more entertaining or heartwarming finale than we have in Fated Hearts.
"I think I always knew we'd be together. Even back in Chicago, something told me that it wasn't going to be the last time I saw you."
Leaning down, I kissed her forehead. "Like you said, fated hearts."
What a fabulous time I had reading Annalise and Roger's romance. It didn't hurt that it started off with them being stranded together in Chicago during a snowstorm having to share a room, considering forced proximity stories are among some of my faves. Their meet-cute was surely memorable–and something I think readers will have a ridiculous amount of fun with. Roger and Annalise competing against each other was hilarious as well. (The treadmill wager and the billiards game will have you laughing out loud!) But it was the twists of fate that kept bringing them together, showing them how special their connection was, that really wowed me.
While this can be read as a standalone, fans of the series will remember meeting Roger in his brother Truitt's story, Lucky in Love (book #4). Thankfully, Roger wasn't as accident prone as his bro, but he had his own challenges. Mainly that after a tragic event in his past, he felt like he wasn't cut out for long-term relationships. Annalise turned that theory on its head. And that's where the issues stemmed from.
The way Elliott wrote Roger–a charismatic guy who was genuinely nice and seriously sexy–helped me get through their conflict knowing he would redeem himself. And I think Annalise knew deep down that she and Roger were being pulled together over and over for a reason. Annalise tickled me to no end with how she stood up for herself, for what she wanted, and how strong she was. She and Roger just clicked as a couple. Everything felt right, even if their situation was out of the norm. It was swoony and oh so sigh-worthy.
With a sweet ending that will bring a tear or two to your eye, and some lovely cameos that made this novel feel like I was coming home, Fated Hearts will win readers over quickly.
QOTD: Have you read any romances with a "forced proximity" trope?
Book Info:

Publication: Expected publication: September 28th, 2021 | by K. Elliott Enterprises, INC | Southern Bride #8
It was only meant to be a short trip—up to Chicago for two days and then back to Texas. At least, that was the plan until a massive snowstorm leaves me trapped in Chicago at a local hotel with no definite timeframe of when I can go back home. If that wasn't a crazy-enough turn of events—I wake up to a beautiful princess standing in my hotel room.
She was definitely a sight to behold, but she's not the least bit thrilled to see me—think Momma Bear finding Goldilocks lying in her bed type of annoyance.
You see, my princess turned out to be a tired and angry traveler who had been double-booked…in my hotel room. With no rooms left anywhere in the city, we are forced to bunk together to ride out the storm. Now all that's left to determine is will we survive each other.
After a rocky start and some much-needed rest, Analise and I soon forge a friendship that turns into a no-strings-attached fling.
When the fairytale we got lost in melts away, we have an even bigger storm to weather that we never saw coming. The one where I'm faced with the uncertainty of having to walk away from the one woman who has opened a part of my heart I had thought was as frozen over as the city we found each other in.
Fated Hearts is a stand-alone novel and the last book in the Southern Bride series.