Best Man and the Runaway Bride by Kandy Shepherd: Can one of the worst days of your life turn into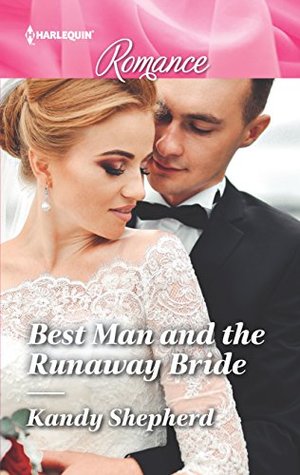 the most important turning points of your life?
Nikki Lucas hopes that it can. The day she walked out on her wedding. That was a turning point, the bigger question what direction would it turn? Would this lead to a place where she could finally figure out how to be enough for herself? Or would this b a time where she would have to figure out that she was never going to be enough?
Max Conway was tired. It seemed his life lately was a bunch of screw ups. It didn't matter that he was trying, that he really did have positive plans. No all that he knew was that EVERYTHING was going wrong. One of the final straws? Showing up to a wedding as the best man and having to rescue the bride from the groom. Would he ever get the life he wanted?
Now 6 months after the disaster that was the wedding that should have been there is the vacation that should be. Running into one another after all this time has caused tension, but maybe it's just amplified tension already there? Where will these two go when it's time to head back to the real world?
Ms. Shepherd has given the readers one of her standard good novels. This features some twists and turns, but the reader will be taken in more by the players than the plot. This is a good solid read that will have you feeling a peace in the end with the realization we just all need to figure out what we want and that we are enough. So much so that it needs to be stated again – We are enough. Go and give it a try while remembering we are enough.

Book Info:

Publication: Published July 1st 2018 | Harlequin Romance |
Scandal at a society wedding!
Can he resist the runaway bride?
After helping Nikki Lucas flee her high-society wedding, privacy-loving best man Max Conway never expected to be accused of having an affair with the bride! As the media scandal dies down, he escapes to a remote island—and comes face-to-face with Nikki! Their connection is undeniable but she's completely off-limits. Yet as the sun sets in paradise, both are struggling to resist…