Down Deep by Kimberly Kincaid: Ian Gamble wishes he could forget his past. Too bad a night of drinking at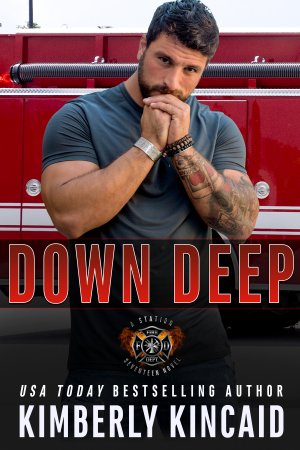 the Crooked Angel Bar won't make that happen. However, it's just lucky that he's at the bar when a fire breaks out and he manages to get Kennedy Matthews, the bar's manager out without any problems. Yet, when the investigation is ruled arson, Ian pushes Kennedy to tell him what she's hiding, especially since he knows she's holding something back to do with the investigation. But when he learns the truth, Ian wonders whether he'll be able to protect Kennedy from what's to come because her brother is in way over his head or will they lose their shot at happy ever after because an arsonist will do anything to put a stop to the people trying to take him down?
"You've got a business to run, and I'm sure they're a little rattled about the fire." Annnnnnd cue the segue. "But you still haven't given me a good reason not to go to the police."
Irritation flickered over her face, but she banked it quickly — not an unwise move since he had the upper hand. "Let me guess," Kennedy said, arching a brow. "You're an only child."
What do readers get when Ms. Kincaid pens a story encompassing a strong hero tortured by his past and a resilient and feisty heroine determined to do everything she can to help her brother; highly entertaining dialogue that — at times — kept this reader on the edge-of-her-seat; and a fast-paced plot that drew this reader in from the very beginning and made it impossible to put this book down? Well, the answer is an utterly satisfying and mesmerizing read where this couple's chemistry is off-the-charts and their scorching romance does their chemistry justice.
As for the dialogue, it was intense due to the main characters back stories and everything they go through on their journey to happy ever after, as Ian has survivor's guilt due to his time as a marine while Kennedy feels she's let her brother down. Will the pair be able to help her brother? Will Kennedy be able to help Ian heal from his past? Moreover, I loved both the main characters. They were incredible and have such a great support team in the secondary characters who will do anything to take down someone determined to cause so much destruction.
"This bastard put the lives of my entire team at risk and now he wants to start fires in the middle of the city," Gamble growled. "I'm good for whatever you need to gutter-spike his a** to the nearest wall."
With the heroine, she really impressed me with the way she stands up to Ian when he thinks he knows what's best for her. Certainly, her it's-my-way-or-I-go-it-alone attitude and her determination to help her brother makes things interesting and cause plenty of tension since Ian doesn't like how trusting Kennedy is of her brother. Yet, what I liked most of all about the heroine is the way she helps Ian to work through his past. Things happen for a reason and what happened wasn't his fault. While the hero, he's been through so much in his past and I couldn't help but sympathize with him, as his parents weren't the best of parents and it's understandable why he joined to the marines as a way to escape. However, everything that's happened in his past has made him the resilient and remarkable man he is. I also liked how determined he was to protect Kennedy, even though she's really good at protecting herself.
"Guess we're stuck with each other, then," Gamble said, his expression growing serious as he leaned in to brush a gentle kiss over her mouth. "I promise to always have your back, Kennedy."
Her smile grew bigger as tears filled her eyes, and all of a sudden, her chest didn't hurt at all. "And I promise to always come home to you."
Overall, this story was a fantastic read, as too, are the other books of this series. As for the ending, it had me worried for the main characters and was a total shock because of what happens, but I loved how things worked out for Ian and Kennedy as they're so good together and for each other. Deep Down by Kimberly Kincaid will appeal to fans of authors Jennifer Bernard, Kate Meader, Shannon Stacey and Jennifer Blackwood, but in my opinion it's a must read just like the first three books of the series are.

Book Info:

Publication: June 18th, 2018 | Self-Published | Station Seventeen #4
Ian Gamble has a past he'd rather forget—which is exactly what he's doing at The Crooked Angel Bar and Grill when the place catches fire. Between his active duty in the Marines and his experience as a firefighter, his instincts get him and hot, headstrong bar manager, Kennedy Matthews, to safety. But those same instincts kick into high gear when the fire is ruled an arson, and he discovers Kennedy's got secrets of her own.
The only thing that matters more to Kennedy than her bar is her brother. When she finds out he's in over his head with a dangerous arsonist, she'll do anything to keep him safe—even if it means teaming up with Gamble, who's too sharp-eyed and hard-bodied for his own good. With every step, their attraction flares hotter and the risks grow more dangerous. Can Gamble and Kennedy face their fears—and their secrets—to catch a terrifying enemy? Or will they go down in flames?