Best of Three (Counting on Love #3) by Erin Nicholas is a really good book. I read the first two in the series and I believe this is the best one yet!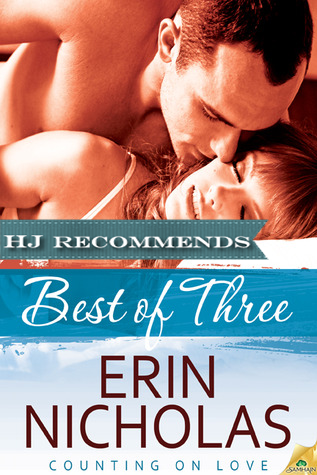 Emma Dixon is a beautiful, fiercely independent woman who recently discovers that she prefers a little domination in the bedroom. She owns and operates her own yoga studio, which allows her to have a flexible work schedule. She is part of the Dixon clan, a close-nit family that constantly looks out for one another. Emma likes to be the center of attention, which is sometimes difficult when being from a large family. She flirts and dates a lot, however, deep down she would like to fall in love with a man that challenges her.
Not very long ago, Emma was in a car accident that broke her pelvis, and it was hotshot surgeon Nate Sullivan that put her back together. Emma and Nate have known each other for a few years and find each other attractive. In fact, they verbally spar and playfully harass one another whenever the opportunity presents itself.
Handsome Nate Sullivan; surgeon, father and amateur football player, has a lot going on in his life. He is slowly falling for Emma and the sexual tension continues to climb whenever they are together, while his eighteen year old son is in love and pushing his hot buttons by avoiding almost all communication. Nate is a good father, despite his childhood role models.
Emma and Nate are a sexy, funny and interesting couple. They like to be in control and forming a trusting relationship is difficult for both of them. Not only are they hot in the bedroom, but they are scorching in the park and the backseat of Nate's SUV. While they enjoy a sex-life that most of us would crave, they are caring individuals that will do whatever it takes to ensure that the people they love are safe and secure. They learn from each other which only adds to their endearing personalities.
I especially enjoyed the last few chapters of the book, where Emma and Nate finally come together and realize their feelings for each other. If you are looking for a well-written romance, with really hot sex scenes, great characters, and a really interesting back-story, look no further than Best of Three.
Book Info:

HJ Recommends 
Published November 19th 2013 by Samhain Publishing, Ltd. | Series: Counting on Love #3
Sometimes it takes a couple of tries before you get love right.
Emma Dixon is known for getting in over her head—and having a great time doing it. She's aware her shenanigans rub Nate Sullivan the wrong way, but getting a rise out of the cocky surgeon is one of her favorite pastimes. Truth be told, exasperated looks aren't the only things she wants from the guy.
Nate has no intention of taking another trip down the falling-in-love road. Women are carefully compartmentalized—to his bedroom. Women who don't mind his take-charge tendencies. Women very different from sassy, sexy, independent Emma.
But his usual strategy of arguing with Emma to keep from kissing her goes out the window when his son falls in love with her friend's daughter. Emma sees a normal teenage romance. Nate sees his plans for the boy's future ruined.
As Nate tries to derail the relationship, Emma runs interference, putting herself directly in the path of the chemistry that grows stronger every time they butt heads. And that could very well lead to the best surprise of all.
Product Warnings
Contains a guy who knows exactly who he is and what he wants and a girl who's going to change his mind about, well, everything. Plus inappropriate use of chocolate cake (of course, that depends on your definition of inappropriate).