Better Get To Livin' by Sally Kilpatrick finds struggling actress Presley Cline in an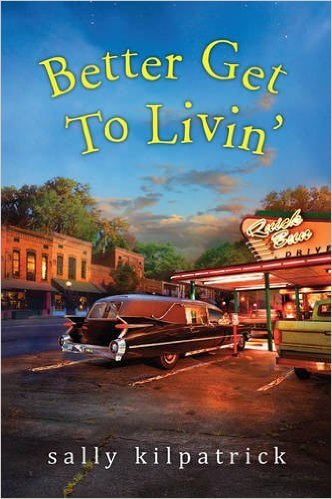 embarrassing situation–she's caught leaving a producer's home with her skirt tucked in her underwear. Granted nothing happened between the two, but it didn't look that way. Needing to get away from the negative publicity, she hightails it back home to Ellery, Tennessee. With little money, she has no choice but to get a job at a hair salon, where one of her first jobs is to go to the Anderson Funeral Home to apply makeup to two deceased women. There she finds not only Declan Anderson–a man she had a crush on when she was a teenager–but also a variety of ghosts that live at the funeral home. Declan's uncle, Hollis, who also sees the ghosts informs her it's her job to help them cross over to the other side. Declan thinks his uncle is crazy, so Presley feels she has no choice but to hide her ability to communicate with the dead with him.
Both Presley and Declan are having a bit of an identity crisis. Presley is trying to decide if she really wants the life of an actress, while Declan never wanted to run the funeral home. He only took over after his father's death, with the promise from his younger brother, Sean, that he would take over when he was done with college. When it becomes clear that Sean isn't going to take over, Declan struggles with the decision of whether or not he should sell the financially struggling funeral home or continue running it as his father wanted despite the fact it's not his dream job. Together, they help each other navigate through the muddy waters as they search to find what would truly make each other happy.
The Colonel, Declan's great-grandfather and one of the many ghosts that haunt the funeral home, was entertaining. Being from another century, his views were old school and sometimes he came out with inappropriate comments. At one point he was insistent that Declan marry Presley just because he saw her leaving his room. He assumed, incorrectly, that the two were sleeping together and that Declan needed to make an honest women out of her. He was determined to stick around because he was convinced that nobody would be able to run the funeral home without him. The interactions between the Colonel and Uncle Hollis were great. It was clear that neither man was willing to give up what they thought was best for the funeral home and the family.
I was a little disappointed in how short the interaction between Presley and her parents was. It seemed like a part of the book was leading up to the moment between the three, so I expected more of a conclusion to that aspect of the story. I was also left wondering what Caroline, Declan's stepmother, was looking at on the computer that she shut down when he entered the room. It seemed a bit suspicious, but it was never revealed what she was doing.
Better Get to Livin' is a cute story with just the right blend of romance, sadness, and humor. If you enjoy your books with quirky characters and lots of heart, along with a side twist of the paranormal, you should give this one a try.
Book Info:

Publication: May 31, 2016 | Kensington |
Presley Cline has put aside dreams of Hollywood stardom and come back to Ellery, Tennessee, to work in a beauty shop. In truth, the dreams in question were more her mother's than her own. Presley may have the face and body of a movie icon, but she lacks the stomach for it. Yet a loving relationship and normal home life seem almost as unattainable as an Oscar. Being able to see and speak to dead people certainly isn't helping.
Presley's first job, beautifying "clients" at the Anderson Funeral Home, is quite a change from working on a movie set. The place is home to dozens of ghosts all hoping that Presley can help them move on–and also one very-much-alive owner, Declan Anderson. Like Presley, Declan is caught between following family expectations and his own aspirations. But with a little meddling from loved ones and locals–both living and dead–Presley is starting to see that life is too short not to be who you want to be, and the most rewarding journeys involve some unexpected detours…