Better Love is Daisy Prescott's fourth story in her Wingmen series, and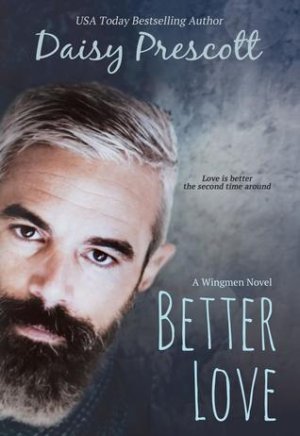 the first of hers that I've read. She already has ten plus stories under her belt, now on my TBR . If this story is any indication of the enjoyment I'll get reading her romances, then I regret not picking them up sooner! With a witty and humourous style, this story just goes to show you that sometimes the second time around is even better than the first.
Daniel Ashford had it all. His business idea and skill for making artisan breads sold to another company for millions leaving him flush with cash and all the trappings of wealth. But in time, jaded by the rat race of making more and more money while being less and less happy, he decided to ditch it all – the fame, the money, the popularity – and the girl, when she couldn't see a future for them in his new lifestyle. Retiring anonymously to a small island off the coast of Seattle, he uses his money to build a pizza parlour named after his grandfather, and lives in a comfortable home with an ocean view. These days his free time consists of chess games with the local pub owner and solo kayaking around the bay. When a local gets into some trouble and needs a publicity fix, his first instinct is to call Roslyn Porter, public relations guru. She's his ex-girlfriend, the one he let get away, but she's also the woman he trusts to handle the problems, just like she helped him handle his growing fame back in the day. When she agrees to take the case, he determinedly puts her out of his mind again, until she shows up on the island and he realizes just how much of a hole her absence left in his heart. He's a different man than he was five years earlier – laid back and relaxed but no less attracted to Roslyn now than he was then. He wants another chance to prove to her that even with her high powered job and his new simple existence they have the seeds of a strong relationship that can flourish with the right motivation and attention. But will Roslyn be willing to risk giving Dan a second chance, after already experiencing heartbreak when he left her the first time?
What a lovely, heartwarming story! Since it's told entirely from Dan's point of view, we get a very good sense of where he's been, where he is now in his life, and what he wants for his future. He doesn't regret anything about the changes he made in his life that led him to his island life , except for losing Roslyn. But in his heart of hearts he knows that at the time he made the decision to break things off, she wasn't ready to make the same changes that he wanted to make and he didn't want to push her into something she wasn't ready for. It's different now though, five years later. His experiences on the island have shown him that you can have a productive working life and still find time for yourself and your friends. This is what he sincerely hopes he can show Roslyn once she has entered back into his life. He's not foolish enough to believe that he can change her, but wants her to come to the realization for herself that there is more to life than a career.
Roslyn is cautious at first with Dan, an understandable reaction since he broke her heart already once. But Dan's sincerity, his openness in revealing his feelings, and his gentle courtship are hard to resist and it's not long before they end up in bed together. But while the love scenes are pretty steamy, they are balanced out with the time the couple spends talking, going on fun dates, and just being together without any expectations. It's a lovely, believable romance.
This story has the hallmarks of a 'small town' romance (on an island) with an eclectic cast of secondary characters whom Dan is happy to be friends with, while at the same time showing the bustle of the city of Seattle where Roslyn lives and works. I liked the contrast of these scenes and their lifestyles, even as it becomes clear that Dan hasn't left all of the city behind (he still loves his Porsche and fine dining and the concert scene) and Roslyn finds herself spending more and more time at Dan's peaceful home. The compromise needed to build a life together is in the works and it's only a matter of time before they get to their happy ending. This is a lighthearted romance, with lots of laughs and a sexy romance between two people who are finally ready to make the leap together.

Book Info:

Publication: Nov 1 2016 | Self Published | Wingmen #4
Maybe that old song got it right.
Maybe love can be better the second time around.
When one of my wingmen needs help, I'll do anything for him, including calling in a favor with the one person I swore I'd never speak to again.
Not after I walked away from that life five years ago and ditched the trappings of my success. The keyword being trap.
I left it all behind.
Including her.
Now the ambitious, brilliant, talented, and undeniably beautiful Roslyn Porter is back in my life. I'm not the same person she knew. I'm trying to be a better man.
***
No man is an island, but Dan Ashland comes close. He's content with his quiet life on Whidbey, a world away from the rat race on the other side of the ferry.
Dan has three great loves in his life: solitude, pizza, and Roslyn Porter.