Betting on Love by Jennifer Hoopes is the second book in the Ellis Family Saga and was a fun, fast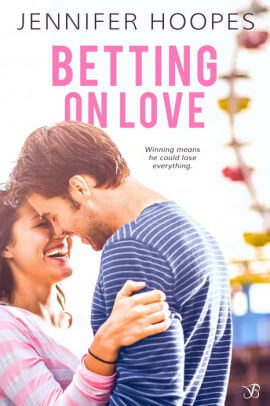 book to read. It was short but well written and had very likable characters. I didn't read the first book, but I do think that it would have improved my understanding of the Ellis family if I had because the books seem to be closely connected.
Whitney Carroll was returning to Gatlinburg, Tennessee to stay with her extended family, the Winston's, while she gets back on her feet after finalizing her divorce to her cheating husband. She needs a job and a permanent place to stay. One night at the local bar with her cousin, Micah, the Ellis family came in. The Winston and Ellis families had a long-time feud, but Whitney wasn't sure why. When Sam Ellis approached her, she was surprised and during their conversation, he mentioned he was interviewing for a marketing assistant on Monday. Whitney was tempted but wasn't sure about working for someone she was attracted to
After the death of his father and older brother Sam Ellis spent all his time running the family business, the Ellis Industries. He was afraid of failing and letting his family down. They were a month away from launching a new coaster at their Cape Stars amusement park and Sam was determined everything would go smoothly. Joining his siblings at the local bar one night, he runs into Whitney and felt an instant attraction, but she belonged to the Winston family and therefore he didn't think anything could come of it. Trying to get him to relax and take time off, his siblings bet him he couldn't stay in a relationship for thirty days and if he failed, they would remove him from the head of Ellis Industries. Sam convinces Whitney to help him with the bet since she would be spending so much time with him anyway for work. Can they work together and have a personal relationship, or will a potential disaster stop them?
This was a fun book to read but it was short (only 150 pages). I feel like it would have been better if there had been more interactions between Sam and Whitney included but overall, it was an entertaining book.
Book Info:

Publication: April 13th 2020 | Entangled: Bliss |
Whitney Carroll is back home in Gatlinburg, Tennessee after divorcing her low-down, cheating husband. First thing on the to-do list: Get a job. Second thing: Just say no to men. Third thing: Don't fall for the boss. One out of three's not too bad, right?
For Sam Ellis, his to-do list is always work, work, work, trying to keep his family's legacy alive. Now, out of concern, his siblings bet he can't keep a girl happy for thirty days, and if he loses he's out as CEO. No problem, he can fake a relationship. And he knows just who to ask…his new man-vegan assistant.
Yet Whitney's sexy boss—secret singer and Skee-Ball champion—is definitely NOT boring, and their connection is undeniable. But when a disaster strikes at work, Sam will have to decide if he's willing to trade in his job for his heart.