Between Marriage and Merger by Karen Booth: is part of her Locke Legacy series,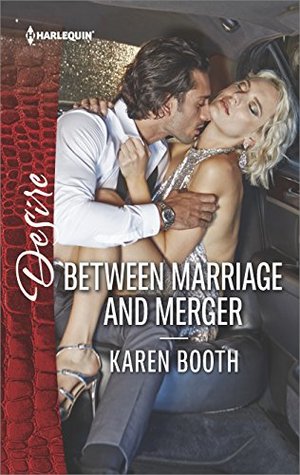 about the Locke family siblings who run a hotel empire and find love in unexpected places.
For Noah Locke, keeping his thoughts about his sexy office assistant Lily Foster strictly platonic means he's taken to lots of dating on the side but with no interest in a real relationship. When a business acquisition is threatened by a PR scandal resulting from his prolific dating life, Noah's siblings Charlotte and Sawyer come up with a plan. Noah needs a fake fiancee to show he's settling down. And Lily is just the woman for the job.
Lily is willing to go along with the plan for a fee. She's been an integral part in the success of the company and thinks 1% of their profits is a fair asking price for pretending to be Noah's fiancee. Never mind that she's been secretly attracted to him for years. Now they'll have to pretend to have feelings for each other in public. That's not a hardship for either of them, as it turns out. But can their fake relationship become something real?
I've enjoyed this author's books in the past and I found this to be an entertaining if predictable read. The conflict and angst are minimal, and there's a slow burn romance between Lily and Noah as they navigate their real feelings for each other amid their pretend ones. Noah's insistence at first on being hands off when they are alone together becomes somewhat frustrating for Lily, and she makes her feelings known. Eventually they share some sexy love scenes together.
Noah has some issues with relationships due to his own father's reputation and it takes him a while to realize what he has with Lily could be the real deal. His sister Charlotte also keeps reminding Lily that her brother doesn't do commitment, which makes Lily wary of trusting him with her heart. Eventually they work their way through their issues and get their happy ending. Fans of the Locke Legacy series will be happy to see Noah and Lily finally together.

Book Info:

Publication: Feb 01, 2018 | Harlequin Desire | The Locke Legacy
From boardroom to bedroom…and back?
Hotel magnate Noah Locke has worked too hard to let a PR scandal ruin the biggest deal of his career. If a fake engagement will fix his image, he's in. So is Lily Foster, his assistant–and the one woman he's wanted for years. Soon there's nothing fake about their heated kisses and steamy nights together. Can this arrangement turn real…or is Lily playing for a different prize?