In Midsummer Delights: A Short Story Collection by Eloisa James, we have three very brief but highly entertaining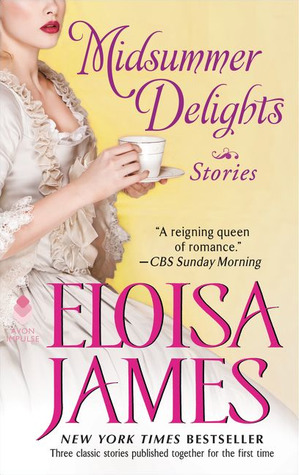 Regency romance novellas, previously published separately, but now all in one lovely collection. I had so much fun with each one that I think fans will likely breeze through these stories in one sitting just like I did. Here's the rundown for each of them…

A Midsummer Night's Disgrace started things off with wallflower Cecilia Bellingworth ready to kick up her heels and cause a scandal. Especially if it means she no longer has to be part of the Marriage Mart. However, the handsome musician she intends to approach turns out to be someone from her past. And someone Cecilia can see herself spending a lifetime getting to know all over again.
"It would be most improper to call you by your first name."
"But my intentions are entirely proper, Cecilia." Her name rolled off his tongue like a promise.
"Oh," she said again, feeling herself turn pink.
"But also improper." He gave her a wolfish smile… .

At Midnight finds Elias Hempleworth-Gray, the Earl of Leyton, penniless and in love with his longtime friend, Miss Penelope "Penny" White. Little does he know that she returns his feelings and intends to do something about it. But it will require some devious maneuvering–along with the help of a mutual friend– for Penny to prove to Eli that they are meant to be together, regardless of what the Beau Monde may think.
'She was *his*, and he'd never had anything of his own before. Penny looked up at him, green eyes wide with trust and love, and Eli felt as if the caring and hope he saw there filled him up, like an empty vase is filled with water.'

Ever After was the final short story, this being about former secret sweethearts Miss Violet Leighton and Rothwell Talcott. As the new Duke of Cambridge he is back in England after four long years abroad and ready to claim Violet as his bride. But even though she turned down one marriage offer after another while wishing for his return, she's still angry at his lack of communication over the years and intends to make him win her hand instead of just giving in immediately.
'Would she accept the hand of a man so arrogant that he apparently believed she would wait for him forever?'

What a lively bunch of characters we had in these three stories. The heroines were feminine but had a strong backbone and the heroes had charm with just the right touch of arrogance to make things interesting. Of course where these were very, very short novellas, there was almost an insta-love feeling but I liked that the hero and heroine in each story had a history together. So it felt more natural that they arrived at their HEA so quickly. There was a lot of nice lighthearted touches but there was still that genuineness to the emotions that I expect from James's work. And while the first two stories were friends-to-lovers and the final one a secret love trope, they all had touches of being a Cinderella retelling that I adored.
Filled to the brim with enchanting characters and Eloisa James's trademark wit, Midsummer Delights will be the perfect distraction for Regency enthusiasts.

Book Info:

Publication: Published February 6th 2018 | Avon Impulse |
Who Writes Cinderella Stories Better than Eloisa James?
No Eloisa James fan should miss these enchanting short stories!
A Midsummer Night's Disgrace
​Eloisa revisits the ​scintillating world of the Essex Sisters with a story featuring a young lady, Cecilia Bellingworth, who has decided she would rather ruin her reputation than endure further speculation about whether her children will be "silly," like her brother, Billy.​ ​After two failed seasons, ​Cecilia ​decides she ​will dress as she likes​ (in a scandalous red dress!)​ and flirt outrageously​ (with a scandalous pianist!)​. Fortunately, a gorgeous musician at the Duchess of Ormond's house party presents the perfect candidate for scandal…
​Previously published in the Essex Sisters Official Companion Guide (e only).
At Midnight
​Elias Hempleworth-Gray has one thing and one thing only of value—his title, Earl of Leyton. Determined to leave England and the scandal of his gambler father behind, Elias hopes to turn his fortunes around and come back a respectable man to claim the only woman for him, Miss Penelope White. But Penny has other plans for the man she has loved all her life…plans that include a masquerade, a stolen kiss and a lost shoe.
Previously published in the Fairy Tale sampler (print only).
Ever After
When she was sixteen, Miss Violet Leighton spent one blissful month romping around her family estate with Rothwell Talcott…thirty days of shared kisses, culminating in a very illicit afternoon in a berry patch. As Rothwell leaves for his grand tour, he gives his word of honor that he will return for her. Four years and seven refused proposals later, Violet is about to give up and marry when he finally returns. Now the Duke of Cambridge, Rothwell wants to make her his duchess. But how can Violet trust the man who stole her virtue—and then broke her heart?
Previously published in The Ugly Duchess (print only).