Branded by Firelight by Paula Altenburg is the third story in The Sweetheart Brand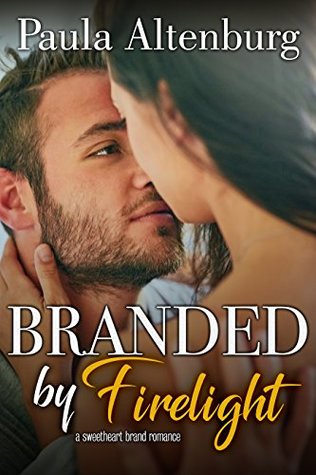 series, set in the small town of Sweetheart, Montana. It's a poignant, lovely, slow burn romance between a woman with painful secrets and a man who gives her reason to trust again.
On the one year anniversary of giving up her daughter for adoption, Claire Brand is trying to keep it together for her sister's wedding. She'd made the best choice possible for the baby but had kept the birth a secret from her family and only returned home for a few weeks. She's at loose ends, with no job to return to, and no plans for her immediate future other than to get through one day at a time.
When best man Ben Nichols finds a clearly emotional Claire hiding out in her car during the wedding reception, he's quick to offer her a shoulder for comfort. He's attracted to her, but happy to stick with being friends to help get her over what's bothering her. As they spend some time together their relationship becomes more involved though they are both upfront that it's only going to last until Claire leaves town. It's Ben who comes to the realization first that he wants Claire for a lifelong partner, not just a fling. Can he convince her to put her heart on the line and give him a chance?
This is my first time reading this author, and I really enjoyed her writing style. Her characters felt very realistic, likable and honest. Though the story starts with Claire still grieving the choices she felt she had to make, Ben's willingness to offer her comfort without pressing for details sets the stage for a real friendship to go along with their attraction to each other. They don't just hop into bed with each other but get to know each other first, and it makes their love scenes more meaningful and intimate.
Ben has a complicated relationship with his mother, who left his father and him behind when he was young yet still wants to be part of his life. Claire worries about how he will feel about her when he finds out that she gave her child up for adoption. She also worries about what her family will think when they find out she had a baby and didn't tell them. The conflict is fairly predictable but doesn't evolve into any over the top drama. Everything comes together in the end with a happy ending for the couple, and a really sweet epilogue. Watching Claire open her heart up to Ben, who is a real sweetheart of a hero definitely makes this book worth the read. I'm looking forward to catching up on the series.
Book Info:

Publication: Feb 06, 2018 | Tule Publishing | The Sweetheart Brand #3
Easy-going cowboy and roping champion Ben Nichols is at loose ends while his best friend prepares for his wedding. Best man Ben must partner with the maid of honor–not a chore, even if the bride's sister is as aloof as she is beautiful. Ben's never backed down from a challenge, especially since this one has a clearly marked expiration date.
Ambitious golden girl and software tester Claire Brand is not acquainted with failure… until recently. Now, she needs to get through her sister's wedding and back to Seattle before her family discovers her painful secrets. Her hot groomsman partner, who has temporary written all over him, offers the perfect distraction to get her through the next couple of weeks. Why not? It's been a long time since Claire's had some fun.
But then, love turns a short and steamy fling into something neither one of them is prepared for.