In Between the Sheets (Boys of Bishop #3) by Molly O'Keefe, Moving to Bishop, Arkansas, marks a new beginning for Wyatt "Ty" Svenson and his eleven year old son, Casey. They only met each other for the first time just months ago and Ty is struggling to become the kind of father that would make his beloved Pop proud. And he's going to need all the help he can get. Casey keeps getting in trouble at his new school until the local art teacher, who happens to be their neighbor, steps in and shows care and concern for their situation. Ty soon becomes entangled in an intense, purely physical relationship with Shelby. But as he realizes he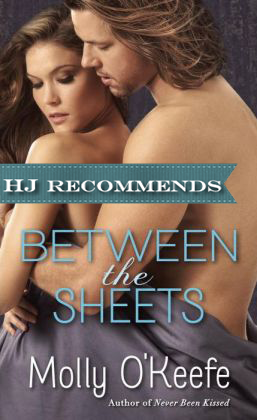 might want more out of their affair, Ty worries if he pushes her further he might lose any type of connection they've made.
She pulled his head back until he met her eyes. "I. Do. Not. Want. Kind."
She was the fiercest animal on the planet; he'd never seen anything like it. And he'd never been so turned on. Ever.
Art teacher Shelby Monroe is just barely hanging on since her mother's Alzheimer's diagnosis a year ago. Every day is struggle for them, with Shelby desperately needing to release some of that stress from handling it all on her own. She finds just the right way to do so when stunningly handsome Ty Svenson moves in across the street. Shelby shows him a fiery, wild side that she's kept hidden since being humiliated by a former lover. Her tight control on her emotions begins to crumble when Ty and Casey worm their way into her heart. With her mother deteriorating, Shelby isn't sure if it would be selfish to want something for herself or if she should continue to devote everything to helping her mother.
"You want something I don't have to give," she told him, her voice burning through her chest.
"I think you do."
"Why?"
"Faith, baby," he breathed over her lips. "I have faith."
…If this was about faith, then it was over before it even started. Faith had been beaten out of her years ago.
Between the Sheets was a surprisingly complex, super sexy romance in the popular Boys of Bishop series from Molly O'Keefe.
I was quite impressed with how much depth of emotion Ty, Shelby, and even Casey, were able to bring out in me as I read about their troubled pasts and their hopes for the future. Looking at the book cover, I wrongly assumed this was a fairly lighthearted romp, when it was actually a story filled with dark secrets, abusive childhoods, and very stressful situations. I think Molly O'Keefe did a fantastic job of creating characters that were easy to empathize with, causing us readers to truly want them to find their way to happiness.
The other surprising part, to me at least, was Ty and Shelby's physical relationship. Talk about smoldering hot!! Wow. They both were at the point in their day-to-day lives where they needed to relieve some stress and they were able to do that in each others arms. The love scenes were raw, almost primal, and brought out the lusty dominant side in each of them. Shelby kind of irritated me a few times with how she pushed Ty away each time they started to connect, but I understood that given her childhood, it would be difficult to open up to someone. Don't worry, though. This is a HEA.;)
If you're a fan of emotionally driven romances with a very solid plot, I think you'll definitely enjoy Between the Sheets. I'm interested to see if anyone else gets a little teary-eyed about Casey's transformation, after they read the book too…
Book Info:

Publication: July 29th 2014 by Bantam | (Boys of Bishop #3)
Perfect for readers of Susan Mallery and Rachel Gibson, Between the Sheets is Molly O'Keefe's final book in the Boys of Bishop trilogy, featuring a sizzling romance between a sexy motorcycle bad boy and the girl next door who can't resist him.
After years of running, Wyatt Svenson has now parked himself in Bishop, Arkansas, trying to do the right thing and parent a son he didn't even know he had until recently. Over six feet tall and packed with muscles and power, Ty likes to get his hands dirty, fixing his motorcycle at night and keeping his mind away from the mistakes he's made. Then his pretty neighbor shows up on his driveway, doesn't bother to introduce herself, and complains about the noise. First impression? She should loosen up. Funny that she turns out to be his son's elementary school art teacher—and the only one willing to help his troubled boy. Ty needs her. In more ways than one.
Though Shelby Monroe is safe in her structured life, she is drawn to Ty's bad-boy edge and rugged sexuality. What if she just lets it all go: her worries about her mother, her fear of heartbreak, and her tight self control? What if she grabs Ty and takes a ride on the wild side? "What if" becomes reality—intense, exhilarating . . . and addictive. But Ty wants more than a secret affair. He wants it all with Shelby. But will she take a chance and open her heart? Ty is determined to convince Shelby to take the biggest risk of her life: on him.