Beyond Limits (Tracers #8) by Laura Griffin had my adrenalin pumping from the start of the book right through to the last page.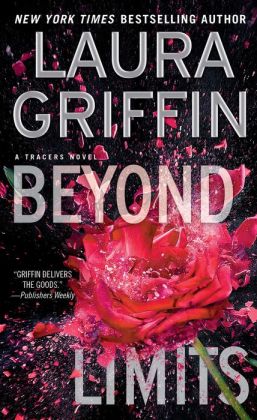 Derek is a Navy SEAL temporarily back in the USA following a rough last mission that had his SEAL team deep in enemy territory to rescue hostages. While carrying out this mission, they came across plans that could bring tragedy to the USA in the form of a terrorist attack.
Liz is an FBI agent who met Derek while she was investigating a team mate of his a year ago. Neither of them has forgotten the other. Even though nothing happened between them, and Liz had no desire for that, they are both still plagued by thoughts of the other. When a case Liz is assigned to unexpected brings them together again, the attraction is still there…but the job to be done has to take priority. Unofficially working together, they are in a race against time to find a terrorist and stop a devastating attack. At the same time, the attraction between them is only growing stronger. But Liz wants more than she thinks Derek has to offer…and Derek has more to offer than he thought he ever would for the one person who holds his heart. Can they have it all? Stop a terrorist plot and find a way to be together? Can Derek convince Liz that a relationship between them will be worth the effort?
Laura really packs a lot into Beyond Limits, and she does it smoothly and effortlessly. She has very obviously done her research on the variety of subjects covered. I like how Laura writes about real life events in the plot of Beyond Limits in a way that ties them in and makes everything believable. She also gives us a glimpse of different government agencies working together and the conflicts that can arise, the struggles. She does this in a way that makes it seem realistic.
The main characters are mature, strong, and independent, both believing fully in what they do. I liked the relationship building between them and the maturity of it without angst or games. Liz and Derek balance each other well even though Liz fights it. I liked the interactions between them, the chemistry between them, and how they worked together professionally.
Beyond Limits has an interesting sub plot involving a team mate of Derek's that was woven in well to the main plot and very much an extension of what started it all.
The plot of Beyond Limits is very well balanced with romance, suspense and a lot of action. It is fast paced and easily held my interest through out.
Beyond Limits is part of the Tracers series. I have read some but not all of the Tracers books and believe Beyond Limits can be read as a stand alone. I'd recommend Beyond Limits to any romantic suspense reader looking for a wild ride!
Book Info:

January 27th 2015 by Pocket Books | (Tracers #8)
An FBI agent and a Navy SEAL race against time in New York Times bestselling author Laura Griffin's newest Tracers novel. "Griffin delivers the goods!" (Publishers Weekly)
FBI agent Elizabeth LeBlanc is still caught in the aftermath of her last big case when she runs into the one man from her past who is sure to rock her equilibrium even more. Navy SEAL Derek Vaughn is back home from a harrowing rescue mission in which he found evidence of a secret terror cell on US soil. Elizabeth knows he'll do anything to unravel the plot—including seducing her for information. And despite the risks involved, she's tempted to let him. Together with the forensics experts at the Delphi Center, Derek and Elizabeth are closing in on the truth, but it may not be fast enough to avert a devastating attack…
Following in the bestselling tradition of the Tracers series, including Exposed, Scorched, and Twisted, Beyond Limits pulls out all the stops with Griffin's most gripping thriller yet.