Pairing Off by Elizabeth Harmon: Is the Cold War over? Will the heat between the American girl and the Russian man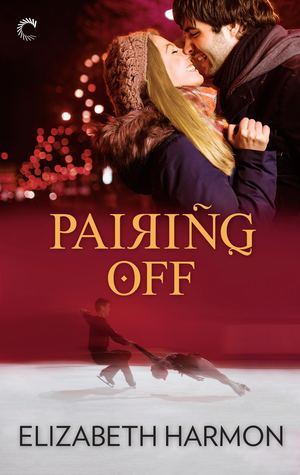 be enough to warm up whatever resentments the Cold War has left behind? Or is it cold enough to put out any warmth there was?
Carrie Parker has been through the ringer. Her parents were not exactly the best examples of loving caring people. Her childhood was the things some folks nightmares were made of and then not even in her thirties her career was in tatters. So when she gets the call to come train and skate in Russia she is over the moon and excited for the future for the first time in years.
Anton Belikov was still living his life to make his mother proud. His parents and his family were his bedrock. He was the good guy who everyone relied on, from his sister to his skating partner, so when she continually screws him over he doesn't understand, nor does he really know how to deal with it. On top of that there is that one girl he can't seem to get out of his mind from a night long ago.
When Carrie and Anton skate together there is a connection that no one can deny. One problem though, Carrie remembers that it was Anton that night where Anton just knows he's continually drawn to this little American and he doesn't know why. When the secrets start to be uncovered will there be healing? Or true separation?
Pairing Off by Elizabeth Harmon was an interesting journey into both Russia and the world of pairs figure skating. This is a novel about a slow romantic journey with two very unsure characters. It is a bit choppy to read but the overall story is very sweet. The one thing that will draw you in is the development of Carrie and how you hear pictures of her history growing up to the woman she starts the novel as and then ends up as. I look forward to reading more from this author as she develops her style.
Book Info:

Publication: February 3rd 2015 by Carina Press
A scandal-plagued American figure skater's last chance at gold means pairing up with Russia's sexiest male skater…who happens to be the first man she ever loved.
"The Cutting Edge" with a Russian twist.
American pairs figure skater Carrie Parker's Winter Games dreams were dashed when her philandering partner caused one of the greatest scandals in skating history. Blacklisted from competing in America, her career is over…until she receives a mysterious invitation and is reunited with the most infuriating, talented—and handsome—skater she's ever met.
Russian champion Anton Belikov knows sacrifice. He gave up a normal life and any hope of a meaningful relationship to pursue his dream. And he's come close—with a silver medal already under his belt, the next stop is the gold. All he needs is a partner. While he's never forgotten the young American skater he seduced one long-ago night in Amsterdam, he never expected to see her again…never mind skate with her.
When what starts as a publicity stunt grows into something real between them, Carrie and Anton's partnership will test their loyalties to family, country, and each other. With only a few months to train for the competition of a lifetime, can they master technique and their emotions, or will they lose their footing and fall victim to the heartaches of their pasts?
Red Hot Russians, Book #1