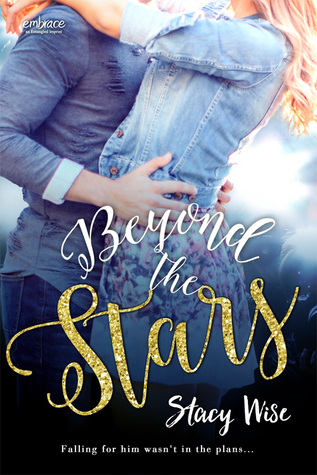 Beyond the Stars by Stacey Wise: Taking a year off her junior year of college due to extenuating circumstances, Jessica has to work for her aunt as the assistant to the very famous heartthrob actor Jack McAlister. Jack's rude, insane about privacy, and demanding and so far, Jessica can't stand him.
I pull off my top and hold it under the dryer, watching the water stain vanish in seconds.
I give it a good shake and glance into the mirror. A pathetic shriek escapes my lips when I see a face behind me. It's Jack.
"What the fuck are you doing?" He shouts over the sound of the hand dryer.
Yet, as she continues working with him, she sees the man beneath the fame who's sweet, kind, and totally sexy. And she can't help but fall for him.
When I reach the living room, Jack's footsteps sound behind me. "Were you going to tell me about your leg?"
"Actually, no." I continue walking.
And then I'm not. He's scooped me off the ground.
Overall I enjoyed Beyond the Stars. It's a lot of fun, especially how awful Jack is at first. He's kind of hilarious and sweet and awkward. Also, he has the cutest pet pig. Jessica, I like too. She's shows a lot of strength, although at times can be a drama queen.
I really wish it had both POV's instead of just Jessica's. I felt I missed so much of the romance, of Jack falling in love. Hearing only Jessica's side, I was totally with her on the 'he could never like me,' especially because it took so long (like the entire book) for them to get together. It definitely increases anticipation, but the 'is he or is he not' period should have been shorter.
It's pure fluff, with a side of angst with Jessica's friend. For anyone who enjoys a cute and fun New Adult, I recommend Stacey Wise's Beyond the Stars.

Book Info:

February 8, 2016 | Entangled Publishing |
Falling for him wasn't in the plans…
Most girls would kill for the opportunity to work for Jack McAlister, Hollywood's hottest actor, but twenty-one-year-old Jessica Beckett is ready to kick him out of her red Ford Fiesta and never look back. She should be spending her junior year in France, eating pastries and sharpening her foreign language skills. Instead she's reluctantly working as Jack's personal assistant, thanks to her powerhouse talent agent aunt.
Jack is private, prickly, and downright condescending. Jessica pushes his buttons—she's not the type of girl to swoon over celebrity heartthrobs, precisely why her aunt thought she'd be perfect for the job—and Jack pushes right back.
But as she begins to peel away his layers, Jessica is shocked to find she craves her boss's easy smile and sexy blue eyes. The problem is, so does the entire female population. And what started out as the job from hell soon has Jess wondering if a guy like Jack could ever find love with a regular girl like her.