In Big Bad Wolf by Suleikha Snyder, wolf shifter Joe Peluso is accused of murdering the Russian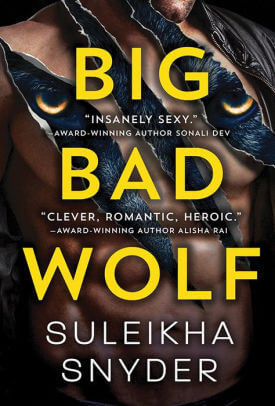 mobsters, who are also bear shifters, that took the life of the man who was like a brother to him. Joe feels like he deserves what's coming for him, until he meets lawyer and psychologist Neha Ahluwalia. She's brought in to get into Joe's mind so his legal team can launch a defense. Only everything in him tells Joe that Neha is his, and Neha, a human, feels a pull towards him. When someone makes an attempt on Joe's life, he finds himself and Neha on the run, obtaining help from Third Shift, a group of supernatural and human operatives that protect humans and shifters from the worst shifters.
This is the first book in the Third Shift series, so there's a lot of world building. A good portion of the first half of the book is about changes in society, and how rights are being taken away from certain groups of individuals. Readers get an introduction to Third Shift and to the Apex Initiative, which is a military project that turned people, including Joe, into shifters. At times it felt like the book was bogged down a little too much with all the details.
As for Joe and Neha, I found their relationship to be a bit rushed. For example, no sooner than they escape being shot at in the courthouse, they're in the alley having sex. They just barely escaped with their lives and should be running to get away from the building, knowing the assassin was still in the area, and yet they had time for a quicky. It seemed out of place. I wouldn't say they had insta-love, but it's definitely insta-lust, and that doesn't really change throughout the book. It felt like they spent more time in the bedroom than developing their relationship outside of it. As a result, I didn't feel any real emotional connection between the pair.
There's also a secondary romance story between Third Shift operative Danny and bear shifter Yulia, who is the sister of the man that's sending men after Joe. That whole romance felt like it was rushed, too. I think it would have been better if they just had a book of their own to expand their story and give readers a chance to really get into their romance. As it was, their relationship felt even more rushed than Joe and Neha's. Honestly, if it had been left out of the book, the book wouldn't have lost much.
I quickly tired of Joe's "I'm not good enough for you" attitude. It's repeated constantly. Despite that, Neha shows him time and time again that she's made the choice to stick it out with him. Still, he keeps insisting that he's not good enough and keeps trying to push her away while not really letting her go. Joe was throwing himself a pretty good pity party and it wasn't long before it became annoying.
At the end of the day, I felt this book was more about world building and character introductions than it was actually developing romantic relationships. While I didn't love this book, I would be willing to try another one in the series to see if it gets better now that the world has been established. I'm also interested in seeing what will happen with Third Shift vampire operative Finn, as he seems to be interested in both fellow operative Grace, and Neha's boss, Nate. This book would be for readers who enjoy paranormal suspense or paranormal relationships.
Book Info:

Publication: January 26, 2021 | Sourcebooks Casablanca | Third Shift #1
Joe Peluso has blood on his hands. But lawyer and psychologist Neha Ahluwalia is determined to help him craft a solid defense…even if she can't defend her own obsession. Because Joe took out those Russian mobsters for good reason–they were responsible for the death of his beloved foster brother. Those six bad guys were part of the ruthless clan of bear shifters who control Brooklyn's Russian mafia, so his vigilante justice has earned him countless enemies in New York's supernatural-controlled underworld, and no friends in a government that now bends to Russia at every turn.
Joe knows that creatures like him only deserve the worst. Darkness. Solitude. Punishment. But meeting Neha makes him feel human for the first time in forever. He's never wanted anything in his life like he wants Neha, and he'll break almost any rule to spend a minute alone with her. But when the Russian mob attacks the jail for payback, Joe and Neha are forced to escape. Before long they're on the run–from monsters who want him dead and from their own traitorous hearts.