The Heiress's Pregnancy Surprise by Donna Alward: Charlotte Pemberton is part of an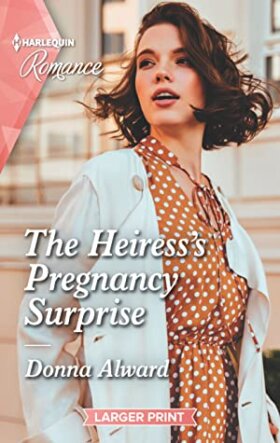 aristocratic family, but her everyday job is being the PR person for her family's fashion business, Aurora. Usually, she works behind the scenes, but has to go to Fashion Week this year. This is an exciting, but busy event. After receiving threats, her mother decides Charlotte needs a bodyguard for the week.
Jacob Wolfe owns a large security business and he is personally picked to make sure Charlotte stays safe. He has worked for many celebrities, but he feels this time he will be "babysitting" a spoiled rich woman. He is surprised when he discovers Charlotte is very Independent, intelligent and beautiful.
They both try to keep their relationship professional, but the sparks fly and they give into temptation and decide it will be alright to have a quick fling and go their separate ways. With the title of this book, it is not a spoiler to say the fling has unexpected consequences. How will they deal with the future and very different lifestyles?
Jacob is the perfect "broken hero" and the author slowly reveals how terrible things that happened when he was a SAS officer have shaped his life and his difficulty in dealing with guilt. Of course, the description of how strong and protective he is are truly swoon worthy.
I love that Charlotte is not spoiled by all her family's wealth. She is competent and has her own goals. She is strong enough to deal with betrayal and the past.
Although this novel is set in several fairly exotic locations and upscale events, there are lots of universal themes threaded throughout the narrative.
This book is the second in a series, but is very much a standalone.
Book Info:

Publication: February 1, 2021 | Harlequin Romance | Heirs To An Empire #2
A VIP assignment…
…an unexpected consequence!Former SAS officer Jacob Wolfe's latest job, as aristocrat Charlotte Pemberton's bodyguard, is pushing him to his limits. Never one to step over the line, he's determined to ignore their intense connection. Until a single dance leads to a forbidden kiss…and Jacob is tempted to break all his rules. But when their resulting night together has an unexpected consequence, Jacob finds himself with a whole new assignment—daddy!