In Big Sky Christmas by C.J. Carmichael, Jackson Stone has always been grateful to the Lamberts for taking him in and giving him a family when he most needed it. But after the death of Brock, for which he still blames himself, he can't be near them for the guilt kills him. Not only the guilt that he was driving in the accident that killed him, but also that he always coveted his fiancé, Winnie Hayes, even if he never acted on it. Which I why he left Coffee Creek to go help and works with Olive Lambert's sister Maddie.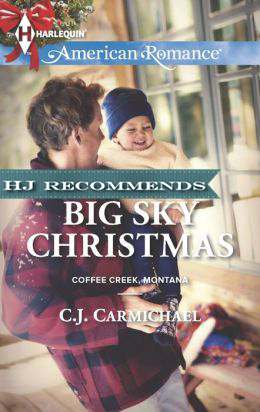 Now after a year and a half, Winnie return to town with her and Brock's son Bobby. But things won't be easy for her. Olive never wanted her as a daughter-in-law and made it well known, but since Winnie kept away with Bobby for so long, it just added to the reason why Olive dislikes her. To make matters worst, she arrives for a Lambert family wedding. Which only brings back memories of her own wedding day and being informed of Brock's death in the chapel.
Thankfully she is sat next to Jackson, who seems to sense her discomfort and helps her to relax during the ceremony. But her peace will not last, for during the reception Olive will corner and start attacking her. So when in her periphery vision she sees Jackson coming close, she finds an exit to the current problem by telling him that they should dance now before she leaves. Only as the dance, she realizes that Jackson is a handsome man and he is awaking an attraction she never had to him before.
But Jackson doesn't want to act on his feelings. He believes that he does not deserve to take Brock's place after taking away his life. So when helping Winnie lead to a kiss, he backs away from her and keeps more distance than he did before. But no matter what the feelings, chemistry and attraction cannot be denied for long. But first they will have to get past their own guilt of their relationship, before they face the rest of the family and make them accept them as a couple as well.
This was an awesome ending to the Coffee Creek, Montana series. Jackson always seemed so serious and closed up that I just felt that he had a great story and even bigger heart and love to give. I loved that he always respected the Lamberts and was grateful to them even if they did not adopt him, but just by fostering him and giving him a home and family they helped to make him into a great man. And finding out the truth of Jackson's parentage and how he came to be with the Lamberts was a great and pleasant surprise. Now Winnie I just loved how strong she was for the sake of her son. She put up with a lot of things that not many would. And the way she helps to end the feud between Olive and Maddie, who is dying of lung cancer, is just so sweet and a perfect ending.
For an intensely emotional romance read, don't miss Big Sky Christmas by C.J. Carmichael.
Book Info:

 HJ Recommends
October 1st 2013 by Harlequin Harlequin American Romance (Book 1470)
A Holiday For Healing
Jackson Stone will always be grateful to the Lamberts, who took him in when he was just a kid. But since the accident that killed his foster brother, Brock, he stays away from the family at Coffee Creek Ranch. Especially now that Brock's former fiancée, Winnie Hays, is back in town with her little boy.
The simmering attraction between them may surprise Winnie, but Jackson fell for her at first sight years ago. Loyalty and guilt require he keep his distance…even as their feelings blossom into love. In the end, it's his own conscience Jackson must master. But with the help of the Lamberts, can this Christmas be a time of healing and a new beginning?