In Snowbound With Dr. Delectable by Susan Carlisle, Dr.Baylie Walker works as an EMT ( emergency medical technician) in courtesy ski patrol at the Snow Mountain Resort in West Virginia. She loves her job and spends her days skiing through the mountains and saving lives. After a traumatic past, the secluded and quiet life of the mountains is just what she needs until Dr. Kyle Campbell joins as a sports medicine doctor.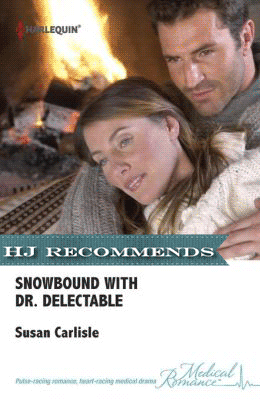 Their first meeting may not be a good one for first impressions but as they are forced to work together, sparks fly and soon they are compelled to confront the past they both are running from.
The sun had pushed the gray clouds away. She lifted her face to the warmth
and inhaled the crisp air. The mountains of West Virginia never failed to
soothe her spirit. That was why she'd returned. To hide, and to survive.
Snowbound With Dr. Delectable by Susan Carlisle was a very well written medical romance with quite a number of interesting medical details. Both the characters have a traumatic past, which have defined their present to a great extent and they both are still living in the shadows of the same. Their past was revealed very early in the book and I would have prefered if it would have come a little late. Both Baylie and Kyle were difficult to like at first because of their attitude towards each other but as the story progresses I managed to like them because of the character growth throughout the story. I liked how they finally managed to confront their pasts together and were finally able to move on with their lives.
He leaned his forehead against hers and said, "If we don't stop now I
might not be responsible for what I do."
What did it take to make this man understand she wanted him? "You don't
have to be responsible. I'm a big girl. I can take care of myself."
"I know you can, but I don't want to hurt you."
"Make me feel good, Kyle." She cupped his face
Overall Snowbound With Dr. Delectable by Susan Carlisle is a good medical romance about confronting your past with the help of a special someone and working towards a happy ending. The story and the writing were the strength of the romance which has a good combo of conversations and attraction. Recommended for medical romance lovers and Susan Carlisle fans.
Book Info:

HJ Recommends
Published November 2013 by Harlequin Medical Romances
Magic in Snow Mountain Resort
Dr. Baylie Walker loves her job. As an emergency medical technician she gets to spend her days skiing through the mountains and saving lives. A secluded and quiet life is just what she needs….
Until delectable Dr. Kyle Campbell makes a dramatic entrance! He may be gorgeous, with a tortured edge, but he's exactly the kind of distraction she hoped to avoid this Christmas! Sparks fly when they are forced to work together. And as the first snow of the season begins to fall, they have nowhere to run…