In Chasing Morgan (The Hunted #4) by Jennifer Ryan, Morgan has been helping the FBI solve crimes by using her psychic abilities for a few years now. During that time she's formed a connection with detective Tyler Reed, both emotionally, and through a sort of mental telepathy they share. Morgan knows their paths will cross again shortly and they will meet in person for the second time, but it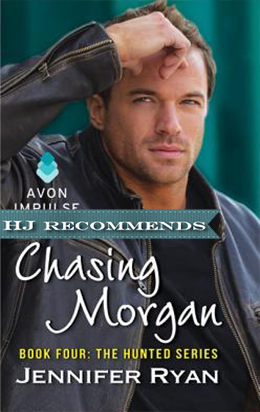 won't be under pleasant circumstances. When she gets involved with a new case that involves her personally, she must use more of her abilities to save herself and those around her than she's ever had to before.
'Her gift had cost her so many things in her life.'
FBI detective Tyler Reed has watched his friends and family meet their soul mates and start families, yet he remains single. The only emotional tie he has is with psychic Morgan who he can hear in his head and who seems to know when he needs someone to talk to. Tyler thinks it's because of his connection to Morgan that keeps him from taking other women seriously. That is, until a killer begins going after psychics and sets his sights on Morgan. Then Tyler has to confront his feelings for her and make some tough decisions.
"Morgan, while I think you're gorgeous from the top of your head to the tips of your toes, the thing I'm interested in, besides your dirty mind, is your heart."
Chasing Morgan is a thrilling, passionate romance full of twists and turns. It's not necessarily a lighthearted story, but it is powerful and shows the incredible lengths that one woman will go through to watch over those she holds dear.
My heart went out to our heroine Morgan, for all that she dealt with growing up. She didn't have a good homelife and raised herself after a family tragedy changed her path forever. But she persevered and became a success, no thanks to her father or sister. I was impressed with her strength and sense of morals. Morgan gave so much to everyone else to ensure they would be safe, yet she had no one to take care of her and her own needs.
Tyler was quite different from Morgan in that he was surrounded by family and friends and had their support in everything he did. But like her, he longed to find that one person he was meant to be with forever and wanted to have children. Tyler had to learn that sometimes what you're searching for can be right in front of you if you just open up to the possibilities.
Overall, I really enjoyed Chasing Morgan. The plot was intriguing and the added suspense of murder investigations made this book very hard to put down. The characters were engaging. And there was so much passion and emotional connection between them, that I couldn't help but be drawn in. Definitely recommended.
Book Info:

 HJ Recommends
Published October 8th 2013 by Avon Impulse
Book Four in The Hunted Series …
FBI agent Tyler Reed trusts only facts and evidence, until the day a beautiful blonde delivers a life-saving warning … based on nothing more than a vision.
Five years later, the mysterious Morgan Standish has used her talents to help Tyler and the FBI bring down countless criminals. Still, Tyler knows next to nothing about her. She contacts him by phone—and by some sort of psychic connection he's not prepared to admit exists—but has not shown herself once. Until now.
Morgan's gift may let her see things others can't, but it comes at a price. Getting too close to anyone is dangerous, especially the gorgeous, moody Special Agent Reed. For she's seen the future: if they meet again too soon, an innocent could be lost.
But when Tyler's latest case forces Morgan out of hiding, she is the one thrust into the path of a serial killer, the Psychic Slayer, who will stop at nothing to protect the secrets only Morgan can see.