Big Stick by Kelly Jamieson is the seventh book in her popular Aces Hockey romance series. This time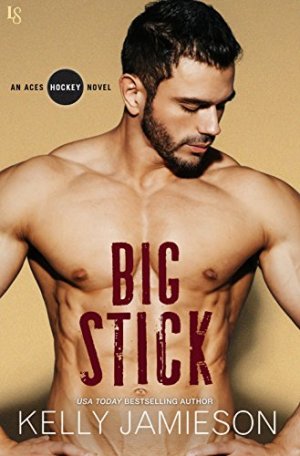 around it's an opposites attract romance for quiet and rather grumpy hockey player Nick and his new single mom neighbor Jodie.
Jodie has recently moved to Chicago to be closer to her friend and business partner Kendra who is married to Max Hall, one of the Aces. She's got her hands full with their online sex product business and a precocious toddler Zyana. Her first meeting with Max's teammate Nick is not exactly 'meet cute' territory, especially when she finds him drunk and crashed out in her room at Kendra's. But as luck would have it, Nick has an empty coach house on his property which would be perfect for her and Zyana as a temporary home while they search for something permanent.
The last thing Nick wants or needs is company but he's willing to do his friend Max a favor and the coach house is sitting empty. It was supposed to be for his brother but one too many concussions led to mental health problems and his eventual death by suicide. It's something Nick blames himself for, and has led to his recent reclusiveness. He just wants to play hockey, speak out at charity benefits in his brother's honour and spend his free time restoring old furniture – by himself. A chatty, vivacious woman and her child will put a crimp in those plans. But the more time he spends with Jodie, the more he comes to appreciate her and her energetic daughter. Can their tentative friendship and attraction lead to something more?
I wasn't sure what to make of Nick and Jodie when they were first introduced but I should have trusted the author to deliver her trademark mix of emotional scenes and a sexy romance! Nick is grumpy and a bit of a jerk; Jodie is a chatterbox. They don't think much of each other at their first meeting, but Nick has that soft heart that starts to show through pretty quickly when Jodie and Zyana need his help, starting with their move in and continuing with a snowstorm complete with power outage that leads to them sharing Nick's house to wait it out. This gives Nick and Jodie the opportunity to share some things about themselves, and starts them on the road to friendship, then more. They have a slow burn romance that soon shifts into sexy times.
I loved seeing Nick get accustomed to Zyana. He'd never wanted kids, and is a little bit afraid of her at first (seeing her in full temper tantrum doesn't help) but he's also in awe of Jodie and how good she is at being a single mom. Zyana is a really fun toddler and the author writes her in a realistic way. She also doesn't shy away from the harder conversations, as Nick finds himself confiding in Jodie about his brother and acknowledging the guilt he feels over his death. Jodie is an understanding listener and has good advice for him, making him realize that in order to move forward he needs to forgive himself and be willing to put the past to rest. Nick's faith in himself is tested later in the story and it makes him realize how much Jodie and Zyana have come to mean in his life when it looks like he might lose them. In the end they work things out and get a sweet happy ending.
As in previous books in the series, on ice hockey and team friendships make up a big part of the story, with several earlier characters making appearances. They are a tight team, and in this particular story they are making a season ending run for the ultimate hockey prize – the Stanley Cup. Will they make it? You'll have to read it to find out! If you're a fan of sports romances you'll enjoy this latest foray into the world of superstar hockey players; if you're new to the genre, Kelly Jamieson should be on your to-read list!

Book Info:

Publication: Oct 23, 2018 | Loveswept | Aces Hockey #7
A brooding hockey hunk learns to embrace life—and love—from a single mom who takes the world one puck at a time.
Big move . . . Jodie's motto is "Don't wait for the perfect moment – take the moment and make it perfect." And that's just what she decides to do when she moves to Chicago with her two-year-old daughter. Now all Jodie needs is a place to live, and her best friend's boyfriend has just the answer.
Big stick . . . Nick Balachov has zero interest in socializing, partying, or flirting right now. It's not that he doesn't like women. He loves them. It's just that hockey, casual hookups, and hanging out at home are enough for him these days. Now Nick has a big problem – because the woman living in his empty coach house is a major distraction.
Big deal? The more Nick tries to keep his distance, the more Jodie needs him – around the house, that is. First he helps with the snowstorm, then the power outage. Nick even finds himself trying to impress her little girl. What the hell is wrong with him? Jodie represents everything Nick doesn't want. But maybe she's just what he needs. .