In Black Sunshine by Karina Halle, Your twenty-first birthday is one of those momentous occasions that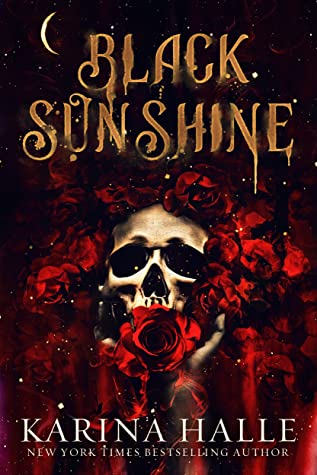 most people celebrate and remember for the rest of their lives. College student Lenore Warwick will certainly never forget hers. Her plans to have a party in the desert was thrown to the wayside when she was abducted the week before her birthday. Unsure if she'll make it out alive, Lenore is told a bunch of crazy nonsense by the man who has been stalking her around San Francisco, Absolon "Solon" Stavig. When he spouts off about her being a vampire, like he himself is, she thinks she's dealing with an insane person. But the more he explains, the more Lenore realizes he just might be right.
'I don't think I'm coming out of this alive. And yet the mystery of why he wants me, of what he's going to do with me next, has me curious as a cat. A cat with only one life.'
Things have never really lined up in Lenore's life. And she's always felt a bit like an outsider. So to be told by her kidnapper that she's turning into a vampire, well, it doesn't seem so far-fetched with all of the other events leading up to it. Including the explanation that her parents are not her biological ones and that, instead, they are vampire slayers. Between that new piece of information and the fact that a whole host of people–and vampires–are after her, Lenore leans more on Solon and his friends. But even that is dangerous. Because she finds her feelings for the handsome-as-sin vampire growing more and more each day. And not knowing what his plans for her are, Lenore is playing with fire.
'I look into his eyes and in them I see a man caught between angel and beast, and maybe that's what a vampire is. All I know is that right now, perhaps in this moment only, he adores me, reveres me. I am his. And I am safe.'
When Karina Halle changes genres, she goes all in. Black Sunshine had the same contemporary feel that I love about her writing, but there was a dark edge to this paranormal romance that was thrilling, intense, and oh so very sexy.
'This feels like the two of us are being bonded beyond blood now, bonded by love, bonded by something that's greater than us both.'
As a fan of Karina Halle's books, I was so excited to see this new dark paranormal romance being released. And overall I had a blast reading it. But I won't lie. It started off a wee bit shaky where the hero was concerned. Not enough to put me off the story for good, but Absolon definitely had to redeem himself to get back in Lenore's (and my!) good graces. And thankfully he did–in the most swoony, sighworthy, romantic way, just like I would expect from one of Halle's heroes.
When Halle said Black Sunshine was an epic PNR, she wasn't kidding. It was a super quick read because I was so enthralled with the storyline and the characters, but it covered a lot of ground. Everything from Lenore being stalked then abducted, to finding out she was part vampire, to falling for her abductor and with both of them fighting their feelings tooth (fang?) and nail. Whew. But it totally worked. And I found that I really liked Lenore. She was strong but still had some vulnerability to her. She didn't always make good decisions, but she did the best she could under the circumstances for the most part. It was Lenore's connection to Solon that truly kept my attention, though. Yowza!! Talk about hot!
Solon was the enigmatic vampire I pictured when I read the blurb. But he turned out to be so much more, too. He became sort of a mentor for Lenore as she transitioned into her powers, something she had no knowledge of before Solon explained it to her. Something her non-biological parents should have discussed with her before her twenty-first birthday. The whole thing with her vampire slayer "parents" was a bit weird, and I wasn't sure from one chapter to the next if they could be trusted. It actually made me root even more for Solon to be the good guy underneath the centuries-old predator he appeared to be. But by the end it all worked out in a most satisfying way.
A dramatic, sensual standalone that left the door open for more books in the future, Black Sunshine is the perfect romance with a paranormal twist if you're looking for something a little bit different and edgy.

QOTD: Are you a fan of dark paranormal romance? If so, what are your favorites?

Book Info:

Publication: Published March 25th 2021 | Pub: Karina Halle |
All Lenore Warwick wants for her 21st birthday is to hang out with her friends, finish her second year at Berkeley with flying colors, and maybe catch the eye of a hot musician playing a show at a club that she can now (legally) get into.
Unfortunately, fate has other plans for her.
A week before her birthday, she's kidnapped by the brooding and dangerous stranger with cold eyes and a lethal touch, who has been stalking her on San Francisco's fog-shrouded streets. Absolon "Solon" Stavig isn't your average criminal though. He's a centuries-old vampire who's caught between wanting to kill Lenore and wanting to save her.
You see Lenore, too, is a vampire.
She just doesn't know it yet.
Taken by a pair of vampire slayers when she was just an infant, Lenore was raised never knowing her true nature. All Lenore knows is that she has (normal) parents who love her, that she's exceptionally smart, and she's squeamish around blood. But once she turns twenty-one, she'll fully turn into a vampire, and Solon hopes he'll be there to guide her, opening her eyes to her deepest hunger…both sexual and otherwise.
But this turning can't be kept a secret. Soon both slayers and vampires are hunting Lenore, with only Solon and his unpredictable motley crew of vampires to save her.
If they don't kill her first.
Black Sunshine is a dark adult standalone romance with a paranormal twist, about sex, love, secrets, and revenge, set in contemporary San Francisco.