Today, HJ is pleased to share with you

Eloisa James's

new release: 

Wilde Child

Eloisa James returns to the Wildes of Lindow Castle series with the next Wilde child who runs and joins a theatre troupe — and the duke who tries to save her reputation.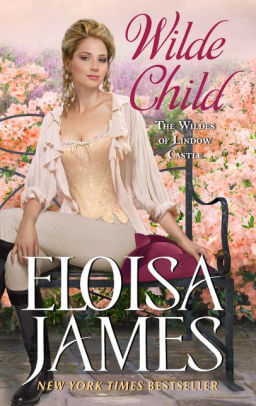 He wants a prim and proper duchess, not the Wildest of the Wildes!
Already notorious for the golden hair that proves her mother's infidelity, Lady Joan can't seem to avoid scandals, but her latest escapade may finally ruin her: she's determined to perform the title role of a prince—in breeches, naturally.
She has the perfect model for an aristocratic male in mind: Thaddeus Erskine Shaw, Viscount Greywick, a man who scorned the very idea of marrying her. Not that Joan would want such a dubious honor, of course.
For years, Thaddeus has avoided the one Wilde who shakes his composure, but he's horrified when he grasps the danger Joan's putting herself in. Staring into her defiant eyes, he makes the grim vow that he'll keep her safe.
He strikes a bargain: after one performance, the lady must return to her father's castle and marry one of three gentlemen whom he deems acceptable. Not including him, of course.
Enjoy an exclusive excerpt from Wilde Child 
Thaddeus Erskine Shaw, Viscount Greywick, was truly fond of the Wilde family. His mother was close friends with the duke's sister, Lady Knowe; he had been school friends with His Grace's sons and one of his sons-in-law.

But Joan was no favorite.

Her sister Betsy was clever and funny; her sister Viola was sweet and charming. He would have happily married either of them. Joan had never been in consideration as his duchess because of her illegitimacy—but more importantly, because she was so annoying. Extremely annoying.

"Lady Joan," he said flatly.

They'd stopped bothering to greet each other with more than a modicum of politeness sometime last Season. Sometime? He knew to the minute when their guarded hostilities had broken into open warfare.

On April 10, he had bowed in front of her and asked her to dance—for politeness' sake, because God knew, he didn't want to spend time with her—and she had been silent for a moment and then said, "You'll have to forgive me. I have a headache and I think I'll go home." She hadn't even tried to sound convincing, and since no one in London could lie as convincingly as she, the insult came unvarnished.

He had bowed again, whereupon she walked away. Though he had the satisfaction of knowing that his face didn't change an iota, rage burned through his limbs. A few minutes later, she walked past him, cozily arm-in-arm with the Honorable Anthony Froude. She had the damned impertinence to cast him a look before she drew Froude out onto the balcony and kissed the man senseless.

The next time they met, he didn't bow; he simply nodded. She blinked as if she couldn't remember why he was being so chilly, then gave him a scathing glance and said, "Took offense, did you? I didn't think you were sensitive. Or perhaps you view me as beyond the pale. One can but hope."

Once again, he had watched her march away.

And now . . .

Even here, in the dimly lit castle corridor, she glowed. That was the infuriating thing about her: She was exquisite. Not that beauty was unusual for a Wilde.

But she wasn't a Wilde.

She didn't have the duke's dark brows, or his black hair, or his chin. Her golden eyebrows were the same color as her hair, and her nose was a perfect replica, albeit in a feminine mold, of the infamous Prussian's.

That hair wasn't what made her exquisite, to his mind. It was the way she spoke with her eyes. And her lips: No other woman had a mouth like hers. A deep bottom lip, a lush Cupid's bow, and a natural tipped-up curve at the edges of her mouth, so she looked forever amused. Put that together with the way she laughed . . .

He shook off that idiocy.

"What in the bloody hell are you wearing?" he growled, annoyed at himself as well as her.

"Breeches," she said, giving him an impudent smile.

"I see that." Joan was a temptress at the best of times, but now? With silk tightly wrapping her thighs? "You can't wear breeches."

"It means so much to me that you disapprove," Joan said. Her smile widened, and her blue eyes suddenly sparkled with joy.

He gave her a withering look. "I've seen you practice that expression for years. Surely you know that it doesn't work on me?"

He was lying. He'd watched Joan flirt with every gentleman under sixty in London, and while he knew that it was just a performance—

Still, he was a man.

No man could encounter that practiced look of hers, the one that transformed her face into that of a sensual, laughing seductress whose eyes promised that he was the most desirable man in the world, and be untouched by it.

The expression wiped off her face, and she gave him an impatient glare. "Do get out of my way, won't you, Greywick? My father knows I'm wearing these breeches, and he approves. I think we'll both agree that he's the only authority I need recognize under the king."

Irritation swept up his back. He'd long ago labeled the Duke of Lindow's attitude toward Joan as permissive to a fault, but this was verging on a blasphemy. "His Grace approves?" He forced the words out between clenched teeth. "He approves of you being seen like that?"

"You needn't look so appalled," Joan said, obviously unmoved by a tone that he used only in the rarest of circumstances. She cast him a narrow-eyed look. "If you're not careful, you'll end up even more righteous and intolerant than you already are. You look as sour as a Quaker in a tavern."

"I look appalled because I am. You'll be ruined." He growled the word, leashing his temper with difficulty. Ruined meant that she'd be banished from polite society.

From . . .

From where he was. Not that he cared.

"Do you know how often I've heard that precise sentence?" She shrugged. "Pretty much every week for the last two years. Lo and behold, I am still invited everywhere. In case you're wondering why, Greywick, that would be because I'm an heiress, and a duke's daughter, at least by name. Power and money trump illegitimacy."

"You're reckless and uncaring," he said flatly.

"That too," she agreed. "Now will you move your hulking body out of the corridor? I could pull my rapier and take a first stab—ha! Get that?—at manly foreplay."

"'Foreplay'?" He heard the incredulity in his own voice.

Excerpt from WILDE CHILD by Eloisa James. Copyright © 2021 by Eloisa James. Used with permission by Avon Romance, an imprint of HarperCollins Publishers. All rights reserved.
Excerpt. ©Eloisa James. Posted by arrangement with the publisher. All rights reserved.


Giveaway:

(3) Print copies of WILDE CHILD by Eloisa James (US)
To enter Giveaway: Please complete the Rafflecopter form and post a comment to this Q:

What did you think of the excerpt spotlighted here? Leave a comment with your thoughts on the book…
Meet the Author:
Eloisa James is a USA Today and New York Times bestselling author and professor of English literature, who lives with her family in New York, but can sometimes be found in Paris or Italy. She is the mother of two and, in a particularly delicious irony for a romance writer, is married to a genuine Italian knight.
Amazon — https://tinyurl.com/x2v2cxzr
Barnes & Noble — https://tinyurl.com/cmzw4pfu
Books-A-Million — https://tinyurl.com/mts72pr9
Bookshop — https://tinyurl.com/2ay3r5t5
IndieBound — https://tinyurl.com/dbd3vawe
Target — https://tinyurl.com/mzp6pznz