Twin Surprise for the Baby Doctor by Amy Ruttan: Adelaide Turner has been working her butt of to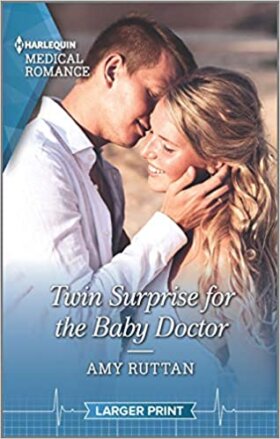 prove that she is the perfect candidate for a highly sought after fellowship, the last thing she needs is a charmingly sexy rival.
However it would seem that Dr. Elias Garcia is determined to get rule following good girl Dr. Adelaide to turn on her very own rule of don't mix business with pleasure. Things take an even more dramatic turn when Adelaide finds out one steamy night changes both of their lives forever, now it is up to Adelaide and Elias to figure out how where they go from here.
I absolutely loved this cute medical romance. This was the perfect mix of steamy romance and medical drama. I absolutely loved Adelaide and her drive to be the best doctor that she could be and that she was so focused on winning the fellowship. As for Elias he was the perfect McSteamy wrapped up in a sexy white coat. The instant attention between these two characters was top notch. I loved the way that they handled the surprise pregnancy and they did it together.
If you are a fan of the surprise baby trope mixed in with a steamy medical romance this is definitely the book for you!
Book Info:

Publication: April 1st 2021 | Harlequin Medical Romance |
Just one night…
…double the consequences!
Dr. Adeline Turner is horrified when Dr. Elias Garcia arrives as the chief rival for her dream fellowship. She could really do without their instant—and inconvenient—mutual attraction! Burned before, Adeline never mixes business with pleasure. Until Elias has Adeline breaking all her rules. But when she finds out that she's pregnant with twins, they're suddenly forced to rethink their dreams—together!