Blackmailed by the Greek's Vows is Tara Pammi's latest sensual romance full of passion and family secrets,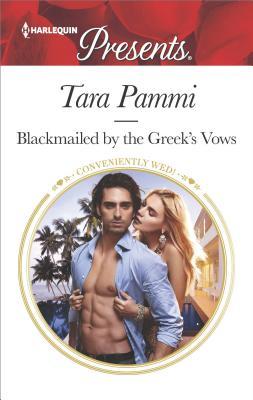 featuring an estranged couple who get a second chance to turn their marriage around.
Valentina married Kairos Constantinou in a match arranged by her brother for business reasons. Though she longed for her husband's love, he seemed mostly critical of her, a reaction that caused her to act out in impetuous and dramatic ways to get his attention. When she realized that he would never let himself love her, she left him. Secretly she hoped he'd come after her but when he didn't, she started out from scratch, refusing help from her wealthy brothers as she tried to rebuild her social networks to develop a business focused on personal style and fashion.
Ten months later Kairos needs Valentina's help for three months while he deals with a situation involving his foster parents and their treacherous daughter (a woman who would like nothing better than to have Kairos to herself). Presenting a united married front is key, and in return he will grant Valentina's request for a divorce when the time is up. In truth, Kairos hopes that convincing Valentina to sleep with him again will ensure he can get her out of his system once and for all. Sex was never their problem and rekindling that side of their relationship brings back many passionate memories. But this time, with a little communication and open minds, can it lead them to save their marriage?
I thoroughly enjoyed this exciting and passionate romance. I loved all the characters here, with Valentina having matured since the early days of her marriage, realizing that her reactions to situations tended to make things worse, not better. When it was discovered that she was not really a member of the Conti family but the product of an affair, she worried about being rejected even as a child, and sought to always draw attention to herself so she wouldn't be forgotten, a habit that continued into her twenties. Now, she's learned her lesson and has a calm and controlled demeanor, though she still shows Kairos some of her passionate side when they are together in some steamy love scenes.
Kairos realized quickly that he missed his wife and her impetuous ways, yet never went after her as his foster father had a heart attack and he has spent the last months helping him out, while trying to fend off the advances of the woman who resents his place in the family. When Valentina agrees to come back and help him, he also discovers that things he assumed to be true were not, and that real, honest conversations are the key to building back up their relationship. Though at first he believes he still cannot love his wife, he comes around in the end and they get a lovely happy ending. This is one romance where you can feel that the couple have learned from their mistakes and will really make it the second time around. It's a sexy, dramatic and entertaining read.

Book Info:

Publication: May 22, 2018 | Harlequin Presents | Conveniently Wed
"Three months as my wife!" Will she pay his price?
Valentina always believed in the longing that consumed her and husband Kairos–until her devastating discovery that her marriage was a coldhearted business deal. Despite their undeniable chemistry, she refuses to remain bound to the ruthless Greek. But before granting a divorce, Kairos demands she play his adoring wife again. And when their intense fire reignites, Valentina is at the mercy of her own desire…