In Ain't She a Peach (Southern Eclectic #2) by Molly Harper, Frankie McCready is known in her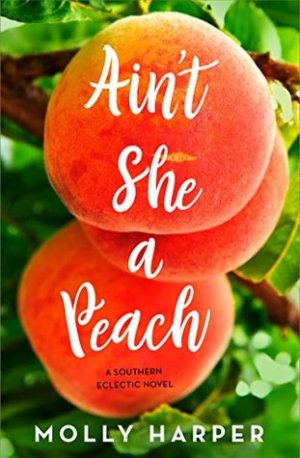 hometown of Lake Sackett, Georgia for a few things. First, she's the local county coroner and embalmer at her family's business: McCready's Family Funeral Home and Bait Shop. Which means that people sometimes walk on the other side of the street, thinking she must be a little off to spend her days with dead people. Secondly, she's got her own unique sense of style which some townsfolk have referred to as off-putting a time or two. Not that Frankie cares. With the things she went through in her childhood, she will dye her hair any color she chooses and wear any Harry Potter or Dr. Who themed clothing she wants to, thank you very much.
"You talk to dead bodies?" Eric asked.
"I was raised well. Just because they're not breathin' doesn't mean I shouldn't be polite," she shot back as she opened the body bag…
Then Lake Sackett gets a new sheriff. A by-the-book, handsome man who fills out the uniform nicely. Not that Frankie notices Eric Linden. Much. What doesn't help matters is that she has a wee bit of history with him. And their miscommunication–okay, mostly on her part–has made their working relationship awkward at best. While chemistry sparks between them, Frankie is ready to knock heads together when someone keeps trying to break into the funeral home after hours. Unsure whether it's her local arch-nemesis or a new nuisance, she hopes to get some help from Eric. But Mr. Rule Follower seems to only complicate the situation as they both get into some hot water when Frankie momentarily loses her temper. But is it any wonder, when she's got her family chiming in, locals harassing her, and a ridiculously handsome man exasperating her at every turn?
'Frankie McCready might be stuck in emotional limbo and have medical anxieties out the wazoo, but she was not a coward when it came to men.'
Molly Harper is back in all her snarky glory with Ain't She a Peach, her second laugh-out-loud full-length book in the Southern Eclectic series. With a quirky kickass heroine who happens to be a mortician, and a likable but buttoned up sheriff for a hero, how could this story be anything but fun, yeah?
"So, your archenemy is a teenager?"
Frankie nodded. "Ours is an epic battle of wills."
I'm really loving this new series. Talk about a blast to read! The offbeat characters, the Scooby-Doo type plots, and in this case, the hero and heroine who didn't want to like each other but who had crazy undeniable chemistry. It all added up to a great time. The way Harper wrote this, it can stand on its own, however, to get the full McCready family effect, you might want to read the series from the start. The raucous family is a bunch of Southerners through and through who you can't help but love. Especially Frankie. I got a kick out of her funky fashion sense and how much of a straight-talker she was. With a few "Bless your hearts" and a lot of sarcasm, Frankie won my heart over right from the start as we watched her deal with a pesky local intent on breaking into her workplace, as well as her attempts to handle her intrusive but loving family.
Frankie and Eric's romance actually began in the novella Peachy Flippin' Keen and they sure did have a lot of fireworks between them. The attraction was certainly there, but there was a lot of animosity as well. This book picked up right where that short story ended abruptly and expounded on the relationship that was growing between Eric and Frankie–and pulled in their backgrounds. We got to see why they had polar opposite attitudes, with Frankie's childhood medical issues and Eric's time on the Atlanta PD changing them both greatly. They had some highly entertaining conversations, fun flirting, and lovely serious moments that had me cheering them on. I loved how Frankie's cousins and even her parents had an opinion on things and how it made her finally stand up for herself, putting her foot down a bit. She definitely had grown as a person by the end, something which Eric had a hand in, while he also learned a few thing about himself in the process, too.
If you delight in romances with Southern humor, rednecks, family antics, a bit of mystery–and even some zombies thrown in for good measure–Ain't She a Peach will be a terrific addition to your summer reading list.
Book Info:

Publication: June 12th 2018 | Gallery Books | Southern Eclectic #2
An Atlanta ex-cop comes to sleepy Lake Sackett, Georgia, seeking peace and quiet—but he hasn't bargained on falling for Frankie, the cutest coroner he's ever met.
Frankie McCready talks to dead people. Not like a ghost whisperer or anything—but it seems rude to embalm them and not at least say hello.
Fortunately, at the McCready Family Funeral Home & Bait Shop, Frankie's eccentricities fit right in. Lake Sackett's embalmer and county coroner, Frankie's goth styling and passion for nerd culture mean she's not your typical Southern girl, but the McCreadys are hardly your typical Southern family. Led by Great-Aunt Tootie, the gambling, boozing, dog-collecting matriarch of the family, everyone looks out for one another—which usually means getting up in everyone else's business.
Maybe that's why Frankie is so fascinated by new sheriff Eric Linden…a recent transplant from Atlanta, he sees a homicide in every hunting accident or boat crash, which seems a little paranoid for this sleepy tourist town. What's he so worried about? And what kind of cop can get a job with the Atlanta PD but can't stand to look at a dead body?
Frankie has other questions that need answering first—namely, who's behind the recent break-in attempts at the funeral home, and how can she stop them? This one really does seem like a job for the sheriff—and as Frankie and Eric do their best Scooby-Doo impressions to catch their man, they get closer to spilling some secrets they thought were buried forever.
With Ain't She a Peach, Molly Harper proves once again that she "never lets the reader down with her delightfully entertaining stories" (Single Titles).