Must Love Babies (Must Love Babies #1) by Lynnette Austin: Somehow weddings seem to be a great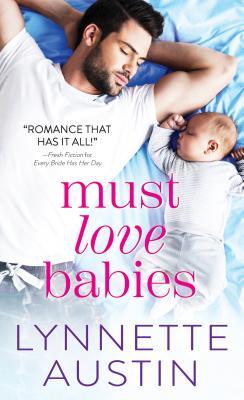 place to meet your future spouse. Maybe it's because there is so much love in the air. Maybe it's just because there always seems to be lots of guests around the same age. In any event something special happened when bachelor Brant Wylder met bridal boutique owner Molly Styles at the wedding of their friends. A dance in the moonlight at Magnolia House, the unique wedding venue in Misty Bottoms, Georgia. So romantic – until Brant's phone rings and he rushes off.
Brant Wylder is a confirmed bachelor. He and his two brothers Tucker and Gaven have a vintage car repair business, Wylder Rides. That takes up all Brant's spare time. Right now the brothers are looking for a property in Misty Bottoms to expand their business. For Brant that gets put on hold when he takes on the care of his five-month-old nephew Jax when Jax's mother is injured in an automobile accident.What a wake-up call! Brant knows nothing about taking care of a baby. Good thing Molly is willing to help.
Molly Styles just recently opened That Little White Dress Shop in Misty Bottoms. The shop is her dream come true. She has no time for men or a relationship. Her business comes first. Plus she made a plan when she was thirteen and so far she has faithfully stuck to it – all the way up to line 8; "Age 27 – Open my own business." Here she is age 27 and she has her own bridal boutique just like she planned. Line 9 on her To-Do List tells her that from age 28-30 she must pour her soul into her business – thus really no time for a relationship. Sometimes the best laid plans go awry though. The attraction between Molly and Brant is strong. Who can resist?
Author Lynnette Austin does small town romance so well you can't stop turning the pages until you get to that HEA. Once you get there you find yourself smiling widely and feeling awful darn good! I can't wait to see what Lynnette Austin has in store for Brant's two brothers, Tucker and Gaven
Book Info:

Publication: June 5th 2018 | Sourcebooks Casablanca | Must Love Babies #1
This baby's not the only one in need of a cuddle…
Brant Wylder is a bachelor and loving it! He's in Misty Bottoms, Georgia, property-hunting for his vintage car repair shop when he gets the call. His sister's been in an accident, and Brant has to drop everything and take care of his five-month-old nephew. That's the end of the bachelor lifestyle.
Bridal boutique owner Molly Stiles is all business all the time, until she sees that Brant's in trouble. In this Southern town, nobody ever has to go it alone. And besides, how can she resist that beautiful baby in the arms of a beautiful man…?
Must Love Babies Series:
Must Love Babies (Book 1)
I've Got You Babe (Book 2)
For Baby and Me (Book 3)
What People Are Saying about Lynnette Austin:
"A delightful, romantic story about dreams, family, and first love…"–Fresh Fiction for The Best Laid Wedding Plans
"An emotional story about a deep love, forgiveness and letting go." –Keeper Bookshelf for Picture Perfect Wedding