In Blind Kiss by Renee Carlino, Fourteen years ago while in college, Penny and Gavin met–thanks to a "blind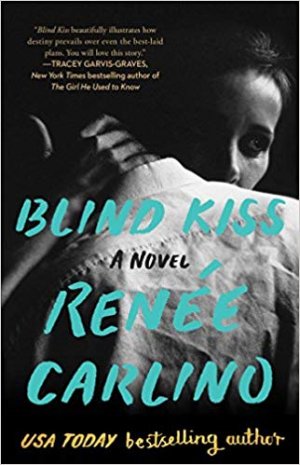 kiss" study. The project was a success in their case, seeing how the entire group of students working on the project could feel the chemistry coming off the couple in waves. But with Penny on the verge of graduating, focused on her dancing career, what could have been an epic romance became an equally epic friendship. One that over the years would have its ups and downs. Through it all, Gavin and Penny proved time and again that a man and a woman *could* be platonic best friends. Although if they could only reach each other's minds, they'd be in for a surprise.
"He held me for a long time. When he started to release me, I said, "It's not enough."
He picked me up again and squeezed me harder. Tucking his face into my neck, he said, "It'll never be enough."
Penny would like to think that she's got her act together these days. She's a wife, a mother…and a bored woman with no career prospects on the horizon. Which scares her a bit, considering her genius son is heading to MIT before the year is out, leaving her with a husband who's never around. Although, Gavin is always just a phone call or a text message away to cheer Penny up. But when she learns of the ways in which his life is going to change–some for the better, some not so much–she knows Gavin's decisions will also alter her life. He's torn between what he's always dreamed of having and what is readily being offered to him. They both know any choice made will test the boundaries of their friendship. Hopefully it will be strong enough to make it through.
"Let me love you tonight, please, Penny?"
"But what about–"
"Shhh… We deserve this. We've been waiting so long."
"I don't know if I'll be able to let you go after this."
A story about friendship, attraction, and the consequences of decisions made, Blind Kiss took us from our protagonists' intense chemistry upon meeting fourteen years ago, to their personal struggles in the present. And, oh, the struggles they did have…
'I thought about how she and I were trying to figure out how to be in each other's lives. What would we be to each other, and for how long?'
I feel like I need to mention right away that there were some, let's say, blurred lines when it came to fidelity in this book. Without giving too much info away, Penny and Gavin's friendship itself was called into question by those around them time and time again. No one could believe that a man and a woman could be best friends and for it to be strictly platonic. And that's where some of the lines were crossed. Because while they were trying to keep things in the Friend Zone, there was definitely very strong attraction there as well. And I feel like those closest to them kind of knew that. It wasn't until the last quarter or so of the book that things went off the rails in a big(ger) way, and that's where I think some readers may take issue.
A lifelong bond that began as a blind kiss for the sake of a college project, I thought, was a pretty cool setup for a book. And I think Renee Carlino delivered on her promise, giving us quirky but likable characters, with tons of highs and lows between them along the way. Gavin was a fun hero. He was musical and artistic, free-spirited, and sexy as all get-out. He made me laugh. A LOT. But he also broke my heart a little with some of the decisions he was forced to make and with how he handled things later in life. Gavin did end up redeeming himself in the sweetest of ways, though. I liked him as a friend for Penny, but I really wanted him as a love match for her.
Penny was an interesting heroine. She had some personal issues I won't get into, stemming from her days as a ballet dancer. We never really got to see her with her husband too much when things were good. The focus as we switched back and forth from the past to the present was mainly on Penny and Gavin at key points in their lives. I do have to say that they tended to be rather dramatic (or some would argue melodramatic) when they got bickering, and they both took turns having selfish moments. However, overall I was sold on their connection and the way Gavin and Penny had each other's backs when it really came down to it.
In true Renee Carlino fashion, Blind Kiss made me laugh, it ripped my heart out, and made me smile through my tears as my heart got pieced back together, one page at a time. If you like your romances filled with angst, poignancy, and a multitude of emotions, this is the book for you.

Book Info:

Publication: Published August 14th 2018 | Atria Books |
From the national bestselling author of Before We Were Strangers, Swear on this Life, and Wish You Were Here comes a powerful story of two people who spend years denying their scientifically proven chemistry.
Penny spends her afternoons sitting outside a sandwich shop, surrounded by ghosts. Fourteen years ago, this shop was her childhood dance studio—and she was a dancer on the rise. Now she's a suburban housewife, dreading the moment her son departs for MIT, leaving her with an impeccably decorated McMansion and a failing marriage. She had her chance at wild, stars-in-her-eyes happiness, but that was a lifetime ago. After The Kiss. Before The Decision.
The Kiss was soulful. Magical. Earth-shattering. And it was all for a free gift card. Asked to participate in a psych study that posed the question, "Can you have sexual chemistry without knowing what the other person looks like?" Penny agreed to be blindfolded, make polite conversation with a total stranger, and kiss him. She never expected The Kiss to change her life forever and introduce her to Gavin: tattooed, gorgeous, and spontaneous enough to ask her out seconds after the blindfolds came off.
For a year, they danced between friendship and romance—until Penny made The Decision that forced them to settle for friendship. Now, fourteen years later, both of their lives are about to radically change—and it's his turn to decide what will become of their once-in-a-lifetime connection.