In Blood Vow (Black Dagger Legacy #2) by J.R. Ward, New Brotherhood recruit Axe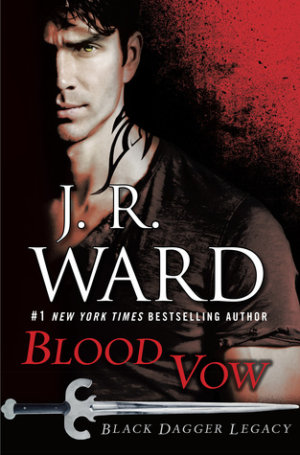 can't wait until he's a full-fledged member of the group and is no longer in training where he has to prove himself every day. But when he goes up for a side job to bodyguard a daughter of the aristocracy, his mettle will definitely be tested. Because Elise is captivating and a huge temptation to Axe. And although she seems every bit as into him as he is to her, they couldn't be from more different worlds. Psychology student Elise may say that she's fine with his humble ways, but he knows that eventually their fiery relationship will come to a sudden end. That's just how things work in his world.
"I'm not going to try to fix you, Axe. That's not my business. But if I think you're off base, I'm going to tell you and then you can do with it what you will. No judgement."
"Well, you know all my dark secrets now."
"And I'm still here, aren't I."
Rhage never saw himself as a father, or with a mate, for that matter. But now he couldn't imagine his life without Mary and thirteen year old Bitty, whom they are in the process of adopting. With the human holiday season fast approaching, he can't wait to add to the presents his Brothers have already put under the tree for their beloved little girl. But news of a possible blood relative might mean Rhage and Mary could be separated from their new daughter. They both want what's best for her, although they struggle with their job to do the right thing and keep their minds open to the chance that the man might indeed be Bitty's uncle.
'It wasn't chauvinistic to want to protect your females. It was appropriate, and not because they couldn't be smart and protect themselves. Females were simply more important than males and always would be, and in the very deepest part of his marrow, he was proud to be in service as a mate and a father to them.'
Blood Vow was everything I look for in a well-written paranormal romance. It had action scenes worthy of a blockbuster film, sexy badass vampires–both male *and* female, tender romance, unquestionable loyalty, and humor. I mean, what more could you ask for right?
The snort he let out was probably one of the most unattractive sounds she'd ever heard in her life, part wounded gopher, part grizzly bear, part old car backfiring. And then he cursed and slapped a palm over his mouth.
"Oh, my God," she blurted, "that is frickin' adorable."
I have to say right away that I truly do enjoy J.R. Ward's astute writing style. It's such a cool mix of the old world language and culture of the aristocracy with the more modern language and references the Brotherhood used. Ward has a way of making me laugh one minute (the Deadpool movie references!) and then nearly in tears the next (Bitty, Mary & Rhage's journey) without giving me whiplash. Somehow the story moved from one scene to the next and one couple to the next pretty seamlessly, giving it a depth that really made me feel like I was fully seeing/experiencing the Brotherhood and their community.
This particular book was mainly about two couples: Elise & Axe and Mary & Rhage. Some readers may not like the format of trading chapters back and forth between the couples, wanting a story instead about just one of them, but I thought their lives intersected enough that it worked well. I wasn't so sure about liking Axe at the beginning, though. I couldn't get a true read on his intentions but I fell for him before long, once he showed his emotions and his true character. And it was funny that I liked his love match Elise right away but then got frustrated with her actions toward the end. But it all worked out in a wonderful way, with all of the fireworks and passion between them you would expect.
The part of the story that really gutted me emotionally revolved around the new family of Rhage, Mary and Bitty. I adored this trio and have to say that Ward put them, along with all of the other characters, through their paces in this installment. Whew. I didn't see how this family could withstand all that was thrown at them but they did so with grace (Mary), bravery (Bitty), and fierce love (Rhage). They made quite a formidable team and proved that strength comes from love. Of course it didn't hurt to have the Brotherhood backing them up either. Especially Lassiter, who I fell for all over again. And I shouldn't laugh, but just wait until you see what predicament he finds himself in at the book's end. Classic Ward fun!
I hope Blood Vow ends up wowing fans as much as it did me. I enjoyed every minute I spent between the pages of this paranormal story, which even had a bit of a holiday theme to it. And I think whether you've read book one of the Black Dagger Legacy or not, you'll be able to follow along with very few issues.
Book Info:

Publication: Published December 6th 2016 | by Ballantine Books | Black Dagger Legacy #2
#1 New York Times bestselling author J. R. Ward returns as her thrilling, original spin-off series set in the world of the Black Dagger Brotherhood continues! When a brooding vampire warrior-in-training teams up with a quick-witted aristocrat to solve a deadly mystery, the only thing more dangerous than their mission is their undeniable attraction.
Trainees at the Black Dagger Brotherhood's training center continue to prepare for the war against the Lessening Society, but fighting is the last thing on Axe's mind. Still plagued with the guilt of his father's death, the brooding loner finds himself battling an unlikely attraction to Peyton's enticing, aristocratic cousin, Elise. Elise feels it, too – especially when the two are thrown together in unusual circumstances, and she must decide whether she can trust Axe as she uncovers the mystery surrounding her sister's death.
Meanwhile, Mary and Rhage are fostering Bitty, a young pretrans orphan, and hope to adopt her… until the appearance of a young male claiming to be Bitty's blooded uncle threatens to tear the new family apart.