In Bond of Hatred by Lynne Graham, Sarah isn't about to let Alex Terzakis and his family take anything more from her than they already have. So, when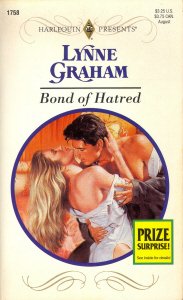 he arrives at her doorstep looking to take her sister's child away from her, Sarah doesn't make things easy. However, finding herself at a stalemate with Alex, she decides to see how far he's willing to go to get his way by proposing they get married. Will their marriage be in name only, or will it lead to them both getting the happy ever after they never imagined they'd have?
"Cristos…you think that I would marry you?" he demanded ferociously.
"A fate worse than death, but so sweet a revenge," Sarah pointed out softly. "Am I to assume that I am even less acceptable than my poor sister? Well, you did ask me what I wanted—"
"You cannot be serious…you are joking." Alex sent her a black intimidating glower of expectancy. "You could not ask such a thing of me and be serious—"
"I could," she confirmed, reveling in his unwillingness to believe. Alex Terzakis in shock – what a glorious vision.
"What kind of a woman are you that you can ask this of me?"
What a tremendous read Ms. Graham has penned in this book, which encompasses the revenge trope and is so full of angst because Sarah is determined to make Alex and his family suffer for what they did. How dare they believe Sarah or her sister would enter a relationship for any reason but love? The way this story started had me liking the heroine immediately, as she's not about to let Alex intimidate her. She's very good at standing up for herself and there's nothing Alex and his family can do, because she has the upper hand with her threats. Will she follow through with them?
As for the dialogue, it was intense due to the main characters back stories, Sarah willing to do whatever it takes to keep her nephew in her life, the history these two have between them that puts them at odds and the threats that warn of what one of them would be willing to do to the other, if there was a fair fight between them. Luckily, Sarah isn't a man because Alex has a serious temper he would love to take out on her.
Both the main characters were entertaining, especially the heroine because she will not allow the Terzakis family to get away with what they did to her sister. Sarah is resilient and courageous in the way she goes toe-to-toe – so to speak – with the hero. No way is she about to give in to what he wants. I also liked how much Sarah cares for her nephew and that she would do whatever it takes to care for him, even if it means marrying a man she despises. Because she's already lost one family member and no way is she about to lose her only other one.
"You know nothing about my temper!" he intoned, incensed. "I am a very disciplined man."
Sarah elevated a brow. "Oh, I expect you're an absolute pussycat as long as everybody around you is bowing and scraping and you're getting your way." She rose to her feet, hoping he was on his way out. "What you cannot handle is opposition from a mere female…"
A pin-dropping silence stretched. Hooded dark eyes regarded her almost slumbrously. "I could handle you with one hand tied behind my back…but you wouldn't like my methods."
While Alex, he was a brilliant hero whether he's trying to keep his temper in check or whether he loses it because Sarah could be quite a difficult woman to deal with in her need for revenge. I also liked what lengths he was willing to go to in order for his nephew to get to know the Terzakis family, especially since Sarah doesn't make things easy for him with her demands. Furthermore, at times, I felt sorry for the hero because he doesn't want a relationship like the one his father had; one full of mistrust and insecurity from the woman he's married to. Luckily, he finds a way for Sarah to trust him completely with what he does for her towards the end. That moment brought tears to my eyes, because it shows Alex knows how much Sarah loved her sister.
Overall, Ms. Graham has penned a really good read in this story, which was revenge plot heavy, but where their differences and dislike for each other offered up plenty of chemistry between the characters due to Sarah's need to make Alex suffer for his role in keeping her sister and his brother apart. The way this story ended had me loving the hero even more than I already did, because his words and his actions declare how important Sarah is to him and that he would do anything to make her happy. I would recommend Bond of Hatred by Lynne Graham, if you enjoy the revenge trope or books by authors Michelle Reid, Patricia Lake or Sara Craven.

Book Info:

Publication: July 1st, 1995 | Harlequin Presents |
'I will pay the price. I will marry you.'
Alex Terzakis's words took Sarah's breath away – marriage was the last thing on her mind! She'd wanted two things when she'd impulsively flung her proposal at him: revenge for her young sister's death and the chance to raise her sister's baby son.
True, Alex would fight tooth and nail to keep his nephew but, in her anger and grief, Sarah had believed her demand would send him packing – she'd never expected him to accept!