Boots on the Ground (Homefront Trilogy #1) by Rebecca Crowley: With the exception of the books I request to review, I do not read book blurbs. I prefer to be surprised and have no preconceived notion of whether or not I am going to like a book that I have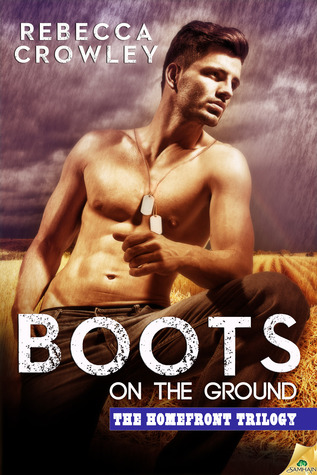 been asked to review. This novella amazed me in a good way, with its original plot, interesting characters and unpredictable ending.
Dr. Laurel Hayes grew up and subsequently settled in the small town of Meridian, Kansas. She comes from wealth and is extremely successful in her own right. Laurel has always wanted to escape her hometown and donate her medical knowledge to areas of the world that could really use her expertise. She is on the cusp of being accepted into a charity program, when former infantry soldier Grady Reid becomes her patient.
Grady spent his childhood in the foster care system and joined the army immediately after he graduated from high school. After years of combat, he decided to call Meridian his home, after his final deployment ended. Adjusting to civilian life has been quite difficult for him, until Laurel becomes a part of his life. Grady is under the false impression that he is not good enough for her, but Laurel makes sure he knows that is not the case.
I liked this novella. Opposites attract is completely true in this story. Ms. Crowley evolves Laurel and Grady's relationship with realism and emotional strength. If you are in the mood for a short, compelling love story, read Boots on the Ground.
Book Info:

Publication: October 28th 2014 by Samhain Publishing |  (Homefront Trilogy #1)
With a life that started in foster care and nearly ended in the mountains of Afghanistan, Grady Reid is more than ready to hang up his sergeant's stripes when his Army contract expires.
Small-town Meridian, Kansas, seems as good a place as any to finally put down roots. He's dumped his savings into a ramshackle farmhouse and is on his way to trading bullets for bull breeding when an exquisitely beautiful, totally unattainable blonde turns his head faster than a pivoting cutting horse.
Dr. Laurel Hayes longs to escape the confines of stuffy, small-town life for an adrenaline-fueled, transient lifestyle delivering medical aid in unstable regions around the world. Then she meets Grady, a man with enticing eyes, a slow smile—and not an ounce of the wanderlust that tugs at her soul.
Their lives are headed in opposite directions. But as something more powerful than attraction, desire, or even lust draws them together, something's got to give…or their hearts could break under the strain.
Warning: Contains a strong, silent Texan military man with wounds he can't name, and the gorgeous doctor tough enough to heal them.