In Boss Man Bridegroom by Meghan Quinn, Charlee Cox is an executive assistant without a CEO to,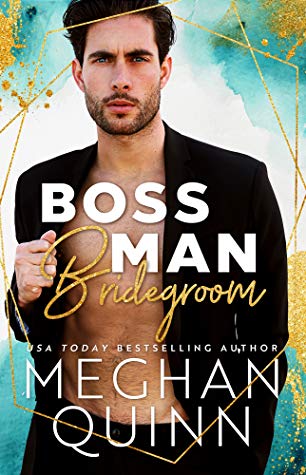 well, assist. Since her last job fizzled out, leaving her with a nice severance package but with no employment elsewhere, she's been on the lookout. And today is Charlee's lucky day. Or unlucky day, depending on how she looks at it. Working for billionaire Rath Westin should be a dream come true as she's heard from colleagues how great of a man he is. But the person Charlee meets is rather…grumpy. Very grumpy. Good thing she's got enough sparkling personality to make up for it. She's going to show Rath how smoothly she can make the office run and how fun it can be to do so. Things go (mostly) according to plan until Charlee encounters a personal snafu that gets her boss very, very involved in her personal life. Then it all goes a bit sideways.
'I see a glimpse of the man I've wanted to see for so long. The vulnerability in the etch of his brow, the passion in his hungry eyes, the yearning in his tense and greedy hands… God, this man is magnificent.'
Rath isn't really sure what he's gotten himself into by hiring bubbly, beautiful Charlee, who comes highly recommended. He has a strict code he sticks by when it comes to business: don't get personally involved. But that kind of went out the window when he got over his initial shock of all things Charlee. She's a bit much for Rath to take, especially in the mornings. Although he's beginning to like the color-coding, plant-filled, extremely efficient office that used to be bland and is now anything but. It's when Charlee consumes his thoughts and starts showing up in his downtime from work that Rath becomes concerned. So when he has the opportunity to help her by becoming her fake fiance, he knows he shouldn't do it, but he also knows he'd do anything to make Charlee happy.
"I am desperately, hopelessly, crazy in love with you. There's no denying it, and there's no stopping it. I was born with a piece of your soul inside me, and I want to claim it. Right here, right now."
Boss Man Bridegroom was raunchy romcom goodness with a heart. And it had a whole lot to offer readers: boss/employee romance, fake fiance, marriage of convenience, clashing personalities, and two very stubborn but compassionate people destined to be together.
"If you marry me, I would give you the dignified pleasure of retaining the honorable title of bridegroom."
"Don't call me bridegroom."
"Boss man bridegroom?" she asks with a cheeky grin.
Meghan Quinn had me laughing so hard at times with Boss Man Bridegroom that I was nearly crying. It was that hilarious. Charlee and Rath were absolutely awesome together. From the confusion about her employment status after her first (fiasco of a) day to how they pushed each other to extremes, I fell madly in love with Rath and Charlee right away. How could I not? Quinn put them in so many over the top, funny predicaments that I couldn't read fast enough to see what in the world would happen next.
This can be read as a standalone easily, but if you've read either The Secret to Dating Your Best Friend's Sister, or Diary of a Bad Boy, then you've "met" boss man Rath's best friends, Bram and Roary, respectively. Oh what a trio the guys made! Goofy frat boys at heart, Bram & Rath's bromance was still in full swing while Roary was ever the sarcastic, tell-it-like-I-see-it one in the bunch. And didn't they give Rath a hard time over falling for Charlee. Particularly since he had picked on them about their romances. I did truly love our alpha CEO. He was a sweetheart under his work persona. It was once Charlee saw that side of Rath that she was a complete goner for him. And I think readers will be too.
Watching Charlee win over Rath's friends and put him through his paces was ridiculously fun. She was a great heroine who, even though she was so, *so* unbending in her stance on how Rath handled things at the end, was a very likable and relatable character. (I share her addiction to organizers, stationery, planners, sharpies, color-coding with pens, etc. lol) I also thought Charlee's relationship with her grandmother was wonderful, the two of them more like besties of the same age, thanks to her grandma's hipness. She was a secondary character, along with Linus, Bram's executive assistant, who were huge parts of Rath and Charlee's path to a HEA. And I adored them both.
With silly, memorable situations (the pictionary scene!!) that led to an equal smattering of sexy times and major communication issues, Boss Man Bridegroom will leave you with a smile on your face and a new favorite couple to cheer on.
Book Info:

Publication: Published January 21st 2020 | Hot-Lanta Publishing LLC |
"Will you do me the greatest honor of all time and be my bridegroom?" she asks, hope in her eyes . . .
How did I get here? My assistant, bent on one knee, holding my hand, her expectant face waiting for an answer.
Just . . . how?
How did I go from being insulted by Charlee Cox to hiring her to be my assistant? How is it that she's chaos in color – making me crazy and my life better at the same time?
I never thought I would be staring down at her bright blue eyes begging me to go along with this ridiculous scheme I suggested.
Yes, I suggested. Like the idiot I am, I thought hey, why not start an HR nightmare and have my assistant ask me to marry her?
Confused? Don't worry, so am I.
But try to follow along, because this is how I became Boss Man Bridegroom.