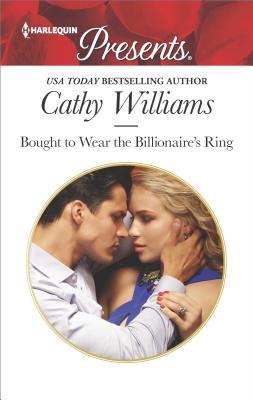 Bought to Wear the Billionaire's Ring by Cathy Williams: Family troubles lead to a relationship of convenience that turns into something more in this sexy tale that travels the globe from England to Australia. Leo is a wealthy businessman who has a close relationship with his father. His father is worried about his step-granddaughter after the tragic death of his step-son Sean. Sean's will had named Leo (Sean's step-brother) as a guardian, but the girl's maternal grandmother, a greedy and grasping woman is fighting for custody. Leo's father believes if Leo shows up with a fiance, it will negate some of his 'player' reputation and convince the judge to give him custody. He's got the perfect woman in mind – the daughter of family friend that Leo has known for years. Out of respect and love for his father, and concern for the girl, Leo reluctantly agrees to the plan.
Samantha can't believe it when handsome, enigmatic playboy Leo shows up on her doorstep – with a proposal of marriage no less! As a teenager she had a crush on him but it was dashed when his attentions went to another, more attractive young woman instead. She's quite aware that she is out of his league still as an adult. In return for agreeing to go to Australia with him (a far cry from her small flat in Devon) to bring Adele back home where she belongs, Leo is offering to pay her mother's medical bills, and help her set up her own freelance graphic arts design company. It's a deal Samantha can't refuse, and she knows it. But she doesn't want to turn into one of the many women that Leo dates and discards on a whim. They've both agreed this will be a relationship of convenience with a definite time limit – but what happens when Leo wants to make things more permanent?
I quite enjoyed this story! It's a bit of a slow burn romance, with Leo and Samantha pretending to be close and affectionate partners for the sake of the public and the paparazzi, but not giving into temptation until later in the story. Their eventual love scenes are pretty steamy! Samantha gets a style makeover from her down to earth at home wardrobe to one suited to a billionaire's fiancee. With it, comes a self confidence boost that she sorely needs. The scenes with Adele reveal a young girl who is clearly in need of some tender loving care and Samantha's ease with her goes a long way to helping Leo be comfortable around her as well – and to seeing Samantha in a new light. The ending is quite sweet and made me laugh too. I'll definitely be looking for more from this author.
Book Info:

 Jan 17, 2017 | Harlequin |
Their six-week betrothal bargain
Samantha Wilson never forgot the sting of Leo Morgan-White's youthful rejection, but now the brooding billionaire is offering a solution to her mother's debts that she can't refuse.
Leo's deal was simple. Samantha would pose as his fiancee to help secure custody of his late stepbrother's daughter. But Samantha's purity is a breath of fresh air in Leo's cynical world, and the temptation to satisfy his lust for her becomes irresistible.
As the end of their agreement approaches, Sam's ability to resist their potent attraction is buckling under the weight of wearing Leo's ring and the heat of his expert touch..