In Bound by Night (MoonBound Clan Vampire #1) by Larissa Ione, Dr Nicole Martin has been haunted for nearly two decades by images of loved ones being thoughtlessly killed when she was a young child. Vampires took away her parents, her home and her beloved nanny, who was also a vampire servant, but was loyal to her. She's spent much of her time since then becoming a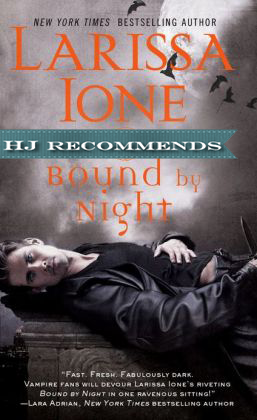 vampire physiologist, learning their strengths and weaknesses to help further medical advances for humans. But working for her parent's company proves to be dangerous when Nicole is taken hostage by vampire, Riker, and forced to uncover secrets about her life and work that may alter her perception of the world around her for good.
"I should hate you, but instead, I'm attracted to you, which is beyond twisted, especially since I know that after I get Neriya back, I'm probably going to die."
Nicole's fear of the vampire clan MoonBound diminishes slightly as the scientist in her becomes more curious. Although she should be furious at Riker for her capture and for events in his past, he remains true to his word, time and again, proving himself worthy of her trust. And Nicole can't deny the intense attraction they both feel when they are together. Their growing relationship is put to the test when tension builds between the MoonBound and ShadowSpawn clans, culminating with what they fear will be a no-win situation.
'So much of her life had been out of her control that she was actually excited to have a regret that was purely her own.'
Riker has been hell-bent on vengeance for the better part of twenty years. He wants the Martin family to pay for what they did to his loved ones. So when he has the opportunity to take Nicole Martin as a bargaining tool, he jumps at the chance. Her prejudiced views on vampires grate on Riker's nerves, but to her credit, she is ashamed when she learns of some of the atrocities they've had to face over the years. His own view on humans remains harsh except for when it comes to Nicole. She has gotten under Riker's skin and it has shaken him to his very core. He soon finds himself in a situation where the safety of not only Nicole, but his entire clan is at risk, and it just might be up to him to try to save them all.
'There was a dark, barely restrained lust lurking just below the surface of his civility, a living thing that had been clawing at him for years, waiting to get out. Nicole had unlatched its cage, and it wanted to thank her.'
I am seriously impressed with Bound by Night. Larissa Ione has created a complex and intense story that blends together hard-edged action with humor and lots of sexual tension. There is also a wonderful sense of family and community through the MoonBound clan that felt genuine and which helped soften some of the edges just a bit. The writing was perfectly paced and kept me on the edge, laughing one minute (Ginsu-Fangs, anyone?) and then in shock with a new plot revelation the next. The secondary characters are very strong and lend themselves easily to future stories in this series. I hope they all get their chance to shine!
Our hero and heroine, Riker and Nicole, both have very good reasons for their views on each other's species and it makes for one complicated relationship. They face so many daunting emotional and logistical challenges that they each give in to their moments of doubt. I liked the fact that Nicole gets to witness firsthand how things are not always as they seem and she learns what a real family can mean to each other. Riker undoubtedly grows throughout the story as well, finally having to deal with emotions he's harbored for decades so he can heal and find love again.
If you are a paranormal romance enthusiast like me, I really think you'll enjoy this exciting new series by Larissa Ione. It's fast-paced, full of action and will play with every emotion imaginable.
Book Info:

Publication: September 24th 2013 by Pocket Books | MoonBound Clan Vampire #1
The first installment in a sexy new paranormal romance series by Larissa Ione, author of the bestselling Demonica series!
A WOMAN OUT FOR BLOOD
Nicole Martin was only eight years old when the vampire slaves rose up in rebellion and killed her family. Now she devotes her life to finding a vaccine against vampirism, hoping to wipe out her memories—along with every bloodsucker on the planet. But there's one thing she cannot destroy: her searing, undeniable attraction for the one man she should hate and fear the most . . .
A VAMPIRE OUT FOR REVENGE
A member of the renegade vampire MoonBound Clan, Riker is haunted by demons of his own. When he recognizes Nicole and remembers how her family enslaved his loved ones, his heart burns for vengeance. But when he kidnaps Nicole and holds her in a secret lair, his mortal enemy becomes his soul obsession, his greatest temptation, and, perhaps, his only salvation—a hot-blooded lover who could heal him with her touch . . . or bury him forever.