Dark Oil by Nora James: Due to some recent firings because of poor work performance, attorney Lara Beckham has been promoted. She is now assigned to work with her company's most important client, the government of Negala, a country in Africa. It is Lara's duty and those of her two colleagues, Commercial Manager Martin Griffiths and Exploration Manager Jack Norton, to figure out why Global Oil's permit to explore for oil has been terminated. Lara speaks Negalese, so it makes a lot sense that her boss would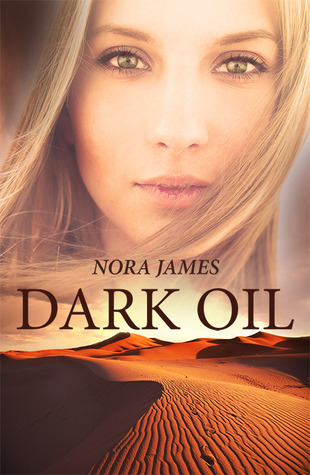 put her on the project and traveling to Negala is their first order of business. Lara is not given any time before takeoff to learn about Negala. She has no idea that the government is corrupt, women do not have any rights, and the population is extremely poor. When they finally touch down after hours upon hours of travel, Lara is beyond surprised at the country's impoverished state, and by the time they reach their final destination, begins to second guess the need to be a part of this venture.
Lara has been married to Tim for ten years and she is very upset about leaving him for any length of time. With Lara gone, Tim is jumping for joy that he can now spend some quality time with his mistress. All Lara ever wanted was a modest home with a child or two, with the ability to be a stay-at-home mom. Due to Tim's materialistic nature and Lara's inability to face facts about their slowly deteriorating relationship, they spend a lot of time a part, living in a big home with an even bigger mortgage. Due to Tim's questionable activities, she has a feeling he is seeing someone else and his lack of concern about her well-being in a third world country only increases her suspicions.
There has always been a spark between Lara and Jack, but because Lara is married, they both have ignored their attraction for each other. Traveling and working together so closely does not help with their mutual infatuation. In addition, Lara is constantly worried about the status of her marriage and being away is not helping.
Doing business in Negala is very difficult and unsafe. They discover that the place they are staying in has been bugged by the government. Meetings with the Minister of Energy are scheduled, cancelled and rescheduled. And bribery is prosperous.
When they return to Negala for a second time, they are lucky to escape with their lives because of a government coup. Luckily, Jack's prior military experience saves them and they return to Australia.
I would not classify this book as a contemporary romance. It is a political adventure with some flirting and a tame kiss or two. If you enjoy political intrigue, give this book a try.
Book Info:

Expected publication: October 1st 2013 by Escape Publishing
When lawyer Lara Beckham is sent to Africa to save her company's multimillion dollar investment, she's devastated at leaving her husband behind. But what can she do? She's needed on the other side of the world, fighting corruption in a country of rolling sand dunes and roaming camels.
On her return, however, it becomes clear that Tim has had plenty of company while she was away. Now, on top of dealing with a complicated legal system, an African coup and a marriage beyond saving, Lara has one more ball to juggle: her effortlessly seductive co-worker, Jack Norton, is joining her on the job…and he oozes trouble.