Boyfriend Lessons by Sophia Singh Sasson Caitlyn Lattimore is a very shy person and finds hard to get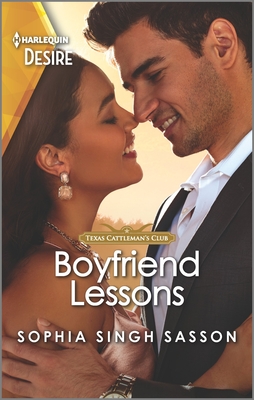 intimate with a men, especially since her last boyfriend dumped her. When her best friend Alice suggests her to have "boyfriend lessons" with her brother, Caitlyn accepts. Only that the night she was supposed to have dinner with the mentioned brother, he came with his best friend, Dev Malik, and Caitlyn connects instantly with him. Knowing that he was there to "entertain" Alice's friend, Dev suddenly realized that he actually likes Caitlyn. Since they only have one month to be together—while he's doing his work search in Royal, Texas—Dev accepts giving Caitlyn boyfriend lessons so she could be more comfortable around men. In the meantime, as they get more closer, their "agreement" turns into a fast and intense romance.
"She had wanted the kiss. He had warned her that he was about to kiss her. She wanted to lie to him and tell him that she'd changed her mind about him being a practice boyfriend. That she didn't want to see him anymore. This non-relationship was already too intense.
But isn't that exactly what I want?
The problem? Their families and their roles in them. Dev is an Indian-American. Caitlyn is biracial (black & white). Dev lives in New York, Caitlyn's life is in Royal. They can't leave everything behind to be with each other. Dev's parents won't accept their firstborn to get married with someone who doesn't share their culture. EVERYTHING is against them. How would they overcome all those obstacles?
Caitlyn and Dev are made for each other. Their loyalty towards their families is admirable. Dev carries a lot of pressure on his back as the firstborn of a very traditional Indian family. Caitlyn prioritizes her family over everything. Both have the same family values but they want to fulfill their personal goals. With a lot in common, this is a couple with a lot of chemistry and their romance is pretty credible. Ok, Dev sometimes was a bit dreamy for my liking—thank heavens Caitlyn was more realistic!—but it didn't harms the story.
What I really liked about this book is how the author brings Indian culture without overloading the plot. We have to think that Dev was born in US. Yet, his family manages themselves as if they weren't living in America. On the other hand, since this book is the second one in the Cattleman's Club: Ranchers and Rivals series, Caitlyn's family is struggling with some land issues—which is the center of the series—and the natural way this topic is added to the plot is simply magnificent. Also, the secondary characters are perfect for a story that has a lot of drama. Not only the romantic side of it, but the legal aspect of the series.
This is my first book from Sophia Singh Sasson and I liked it. How she created a multicultural and interracial romance is fantastic. The book is well written and balanced with solid arguments, well described settings and powerful scenes. A bit of flaws, yes. But its reading is fast and simple, considering all the drama and intensity this story has. My only suggestion? Read the first book of the series (this series has various authors) because, while this is a standalone book, you could get the whole picture of the series theme if you read the book prior to this one.
Book Info:

Publication: May 24, 2022 | Harlequin Desire | Texas Cattleman's Club: Ranchers and Rivals #2
What happens when a shy socialite asks a man she just met, "Will you give me boyfriend lessons?" Find out in this Texas Cattleman's Club: Ranchers and Rivals novel by Sophia Singh Sasson.
Her cardinal rule for learning the ropes of romance?
Don't fall for the teacher!
Shy Lone Star heiress Caitlyn Lattimore is eager to ditch her wallflower status. So when her best friend playfully suggests she practice dating, Caitlyn goes one further. She asks friend of a friend Dev Mallik to give her boyfriend lessons. The spark between them soon turns fun into fire. But is Caitlyn setting herself up for heartbreak? Because Dev's exacting parents want just the right woman for their son—and they aren't so sure she's the one…