In Maggie Moves On by Lucy Score, Kinship, Idaho is the perfect small town for Maggie Nichols to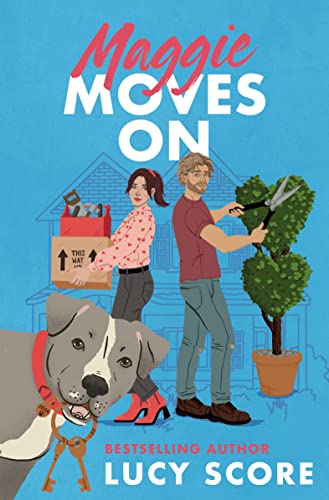 (temporarily) settle in as she begins renovating the historical Old Campbell Place–a mansion that's definitely seen better days. But that's where her expertise comes in as a house-flipper. And plenty of people tune in to Maggie's show on YouTube to see her work some magic before moving on to her next big project. Although, this house is the largest job she's tackled so far. With help from some local tradesmen, she hopes to meet her tight deadline. Then Maggie meets hottie landscaper Silas Wright and suddenly the fact that she travels most of the year and has no true home of her own starts to bug her. Could Kinship be the perfect place for her to finally call her own?
"Dammit. You're right," she admitted, her breath coming out in a whoosh.
"Darlin', I'm Mr. Wright."
Her lips quirked. "You're saying your last name, aren't you?"
"Maybe."
She shook her head. "Ugh. Does that line actually work?"
"We're about to find out."
Silas thought he was just putting in a bid on a local job the day he drove up to the Old Campbell Place with his trusty pit bull Kevin by his side. One look at his potential new boss, though, and he knew his life was about to completely change. Maggie is absolutely everything Sy could ever hope for. Well, aside from her severe case of wanderlust. As he sets about showing her that not only is he an expert landscaper but he's also the perfect man to challenge her and set her nights on fire, he'll need to convince Maggie Kinship is the right fit. Although Sy just might need to enlist the help of some family and friends to accomplish this particular task.
'Her tank top was soaked and clinging to her body. She had a smear of dirt on one bicep and sawdust in her hair. Silas wanted to pick her up and bite her.'
A romantic comedy with a broken down mansion chock full of secrets, two stubborn main characters, a kleptomaniac pit bull, a quirky town readers will adore, and possibly even lost treasure!, Maggie Moves On proved why Lucy Score–aka the Queen of Banter–tops my list of go-to authors.
"Maggie Nichols, I don't mean to scare you off, but I think you just might be the girl of my dreams."
She gave him the eye. "I bet you say that to all the girls."
"Never in my life," he said, making an X with his finger over his heart. "How do you feel about breakfast for dinner?"
I haven't met a Lucy Score book I haven't liked, if not loved, yet. Maggie Moves On is right up there with her Riley Thorn books in my humble opinion as far as the level of humor, the heat between the main characters, and the myriad ancillary cast that added that something special to each scene. And I so enjoyed that while, yes, the people of Kinship, Idaho, were a wee bit offbeat, they were an inclusive bunch who never met a stranger. Between Silas's blended family who *always* had each other's backs to the business owners helping out recently laid off factory workers, the sense of community and friendship was strong and oh so heartfelt.
As far as Maggie and Silas go, I don't think I could have liked them more. Both were very hard workers and great at their jobs–as well as being hands on with their work. Something that they admired about each other. And they were simply great people. I had to chuckle over Silas and Maggie having very different styles when it came to their lives, though. He was laid back and had a natural confidence that showed he knew his place in the world. She was more of a to-do-list-maker, weighing the pros and cons and planning things out kind of woman. But the sparks between Maggie and Silas weren't just of the romantic sort–they also butted heads about how to handle their ever-growing relationship when/if she left Kinship. And how Score wrapped everything up–even including some local history and a kismet moment–was the cherry on top of an already stellar rom-com.
QOTD: Would you like the adventure of being on the road months at a time for business like Maggie or do you prefer sticking to your home base with only occasional travel?
Book Info:

Publication: Expected publication: June 21st 2022 | Forever |
Can these opposites turn up the heat… without burning down the house?
House-flipping sensation and YouTube star Maggie Nichols can't wait to dig into her next challenge. Arriving in tiny Kinship, Idaho, with only a cot and a coffeemaker, Maggie is prepared to restore a crumbling Victorian mansion in four months or less. She has her to-do lists, her blueprints, and her team. What she doesn't have is time for sexy, laid-back landscaper Silas Wright.
The man takes flirtation to a whole new level. And he does it shirtless…sometimes pants-less. He and his service school-dropout dog are impressively persistent. But she's not interested in putting down roots. Not when fans tune in to watch her travel the country turning dilapidated houses into dream homes. A short-term fling on the other hand could fit nicely into her calendar. After all, Maggie remembers what fun is like. Vaguely.
As their summer gets downright steamy, Silas manages to demolish the emotional walls she's spent years building, sending Maggie into a panic. He's the wrench in her carefully constructed plans. With the end of the project looming, she has a decision to make. But how can she stay when her entire career is built on moving on?