In Breathe In, Cash Out by Madeleine Henry, Allegra Cobb is nearing the end of her first two years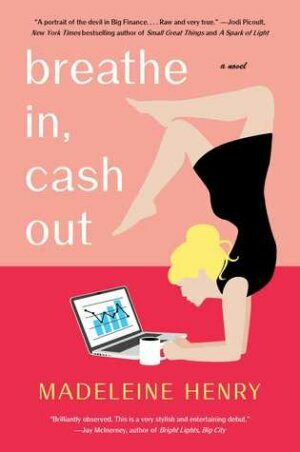 as a bank analyst with Wall Street firm Anderson Shaw. And she can't wait to get her final bonus so she can quit finance and start to focus on her real dream of becoming a yoga teacher. An unlikely career change, she knows. But after working 80+ hours a week, sometimes for more than 24 hours at a stretch, Allegra is done being pushed into useless projects by her bosses and wants some calm in her life. She just hasn't gotten the nerve up yet to tell her coworkers of her plans. Or more importantly, her father. The man who raised her and means everything to her.
'I started imagining my last day at Anderson on my first day of training.'
When Allegra gets a chance to work with a yoga instructor who is an internet sensation–and someone she looks up to–she's on cloud nine. But with her crazy schedule and things with her new boss being strained after they had a one-off, before Allegra knew it was her boss!, the practices yogi extraordinaire Skylar wants her to implement…well they're just not working. And if she's being honest, she's just not sure if she can trust Skylar's influence when Allegra starts piecing things together. She'll have to find a way to move forward with her yoga plans one way or another and let go of her soul-sucking banking career without alienating her friends or her father.
'When I started doing yoga, it was nurturing and fun. Now it's scheduled, approval-seeking yoga that my dream life depends on doing successfully, while I thread the needle of also working nonstop.'
A look at modern life and hectic careers with hilarity, cynicism, and even some heartfelt moments, Breathe In, Cash Out was quite an eye-catching debut from Madeleine Henry.
'I just had to figure out: How can I teach a meaningful class when my days are full of nothing but meaningless transactions and dollar signs?'
I love reading debut authors. It's fun to see what their writing voice is like and to get a whole new perspective on life and love–and in this case, the cut-throat world of finance. And let me just say that if this is a true look at what a crazy work life financial analysts endure when they are fresh out of college, proving themselves in their first bank analyst position? Yikes! Madeleine Henry found a way to make it clear how horribly demanding it was for our heroine Allegra to manage her job while still adding in some levity with her inner thoughts on her bosses and coworkers. And her major addiction to caffeine. (lol)
There was a unique cast of characters here, ranging from what Allegra considered as her friends to her rather sadistic bosses, who were in a category all on their own with their pettiness and terrible treatment of their employees. I felt like Allegra was written honestly. Her emotions were all there on the page: the good, the horrible, and the cringe-inducing. I completely understood her dreams of doing something meaningful instead of being a slave to the almighty dollar and thought yoga was a cool choice for her future.
There will be a *lot* of business jargon to slog through, for those of us not in the world of finance. (I have a background in accounting and while it's not on the level of an analyst of course, I still had no idea what some of the terms were that Allegra used!) But it was interesting to see the disparity between how highly intelligent Allegra was in her job and with how difficult a time she had knowing who to trust in her personal life. Something that I think most readers will surely understand.
Introspective and unapologetic in its honest approach, Breath In, Cash Out fully entertained me while I rooted for our heroine to get the peaceful future she worked so hard for.
Book Info:

Publication: Published July 9th 2019 | Atria Books |
In this sizzling debut for fans of The Devil Wears Prada, Wall Street banking analyst Allegra Cobb plans to quit the minute her year-end bonus hits her account, finally pursuing her yoga career full-time. But when she forms an intense relationship with the #InstaFamous guru who may hold the ticket to the life Allegra's always wanted—she's not sure if she'll be able to keep her sanity intact (and her chakras aligned) until bonus day.
Allegra Cobb's resume: Straight-A Princeton grad, second-year analyst at a top-tier bank, one-time American Yoga National Competition Champion. Allegra Cobb's reality: Spends twenty-four hours a day changing the colors on bar charts, overusing the word "team," and daydreaming about quitting the minute her year-end bonus hits her account. She has no interest in the cutthroat banking world—she's going to launch her very own yoga practice.
But her plan isn't quite as perfect as the beachfront yoga pictures she double-taps on Instagram. On top of the 100 emails an hour and coworkers already suspicious of her escape plan, Allegra's hard-driving single father has always expected fiercely high achievement above all else. That his daughter works on Wall Street means everything to him. Still, she marches on, taking it day by extremely caffeinated day.
But after (1) unknowingly sleeping with the man now leading her banking cohort on one of their biggest deals to date and (2) meeting the #blessed yoga guru who might just be her ticket to the life she's always wanted, it really hits her: her happy-ever-after will be harder to manifest than she thought.
Fast-paced, laugh-out-loud funny, and totally irresistible, this is the story of a fearless young woman determined to center herself in the life she truly wants.