In The Perfect Date by Evelyn Lozada, Angel Gomez is a single mother of a sick son, Jose. She's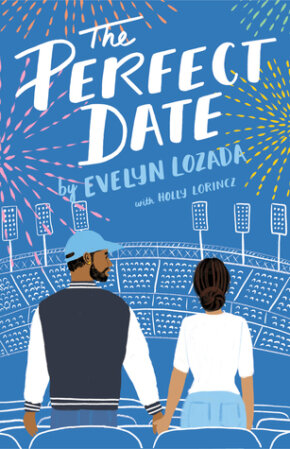 working two jobs to get by while also trying to finish up her nursing degree. At the clinic she works at, she meets Caleb "The Duke" Lewis, a pitcher for the Yankees. Caleb is dealing with an ankle injury that occurred when he and two of his teammates were shot, one fatally. He can't afford another scandal, and if his ankle isn't healed, he's going to lose his a job. When a chance encounter at Angel's second job as a bartender results with him getting her fired, he's determined to apologize and make things right, which starts by them pretending to be a fake couple. Duke needs to come to a decision about his career, Angel's career as a nurse is being threatened, and it seems someone is determined to let Duke take the fall for his teammates murder. Despite all this, will they be able to turn their fake relationship into something real?
I'll be honest and say I didn't care for either Duke or Angel, or any of Duke's friends, or his father. Duke knows his ex is vindictive, but when she accuses Angel of sleeping with the husband of one of their friends, Duke immediately believes the lie. Then five minutes later he's chasing Angel and telling her he believes her. Either you do or you don't. It can't be that quick to flip the switch. Then the wife of accused husband automatically believes Duke's ex as well, then shows up saying she knew she was lying. I couldn't figure out why these people just couldn't make up their minds.
Duke's father handles his finances. Instead of admitting to Duke what was going on, he uses Duke's money to pay something off without telling him. If he just told Duke what was going on, they could have made a decision together. He should have at least given Duke the option before just spending millions of his money without his consent, almost putting Duke into debt.
I also had a hard time with how the book was written and formatted. I read an advanced copy, so I'm hoping at least some of these will be addressed before the final version is released. First, the book alternates between Angel and Duke, however, there's no clear distinction as to when the change takes place. So one minute you're reading about Angel, then it suddenly switches to Duke. There were several times I had to go back and re-read something because the jump didn't make sense, only to realize it was because the characters had switched. It would be better if there was some separation or some divider was included so readers are aware the character switch had taken place. I also felt the writing was choppy in places, and some of the dialogue felt stilted and a bit awkward.
There's an epilogue, but I found it unsatisfying. At only a couple of pages, it was extremely rushed. It almost felt like the author thought she had to throw something in at the end of the book to tie it up. There's no mention of what happens to Duke's ex or his former teammate, or how Angel gets her degree when the doctor wouldn't sign off on the evaluation she needed to complete it. There were so many things that could have been resolved or expanded on but they weren't.
Unfortunately this book wasn't for me. The drama level was much too high, and most of it was unnecessary. By the end of the book I was just waiting for it to get over, and I honestly couldn't care less if Angel and Duke wound up together. The only character I truly liked in this book was Jose, and he wasn't in very many scenes.
Book Info:

Publication: June 11, 2019 | St. Martin's Griffin |
Angel Gomez only wants to get through nursing school and earn enough to support her mother and her son, Jose. Her bartending job helps bring in some extra cash, and the last thing she's interested in is flirting or men in general.
Caleb "The Duke" Lewis is an up and coming star for the Yankees, known for getting around. However, his last breakup left him distracted and made him turn to drink. When he's caught by the Yankees manager at a party instead of training, he's suspended and sent back to the Bronx to get his head straight.
Angel and Duke's worlds collide one night at the club and sparks fly. Though Angel wants nothing to do with Duke, he has no intention of letting her slip through his fingers. She isn't star-struck by his fame, and this might be just what he needs to get things in order. He'll do anything to convince her…even make her an offer she can't refuse.