Bringing Rosie Home by Loree Lough: As stated in the blurb above, it is every parents' worst nightmare to have a child abducted. This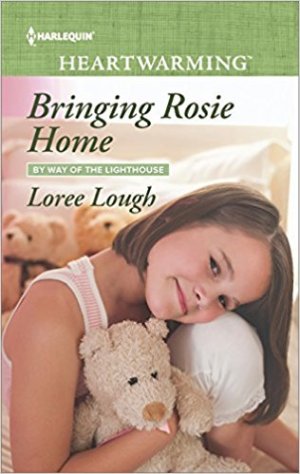 is something I do not wish on any parent.
In "Bringing Rosie Home", Grant and Rena are blessed with the news that their daughter has been found several years after being kidnapped from a field trip at the zoo. Rosie will be coming home to Grant and Rena. However, in these years Grant and Rena separated, and he has never found a way to forgive Rena for what he feels was her neglect that led to Rosie being kidnapped. To ease Rosie's return home, they put up a pretense of reuniting so Rosie doesn't have to know of their troubles.
Unfortunately, Rosie's return is not filled with entirely happy or easy moments- she connects more strongly and positive with her dad Grant, then with Rena. She also frequently mentions her abductor who raised her and homeschooled her for several years. Rena has a difficult time accepting that Rosie is not warming up to her, while all the while still trying to forgive herself for looking the other way at the zoo years earlier.
Will Rena and Grant truly reconcile? Will he forgive her, and will she forgive herself? Will Rosie fully re-adjust to being home with her parents? To answer these questions and more, I highly recommend reading Bringing Rosie Home, as long as you have kleenex ready!

Book Info:

Publication: January 2, 2018 | Harlequin Heartwarming |
A kidnapping shattered their family…Rena and Grant VanMeter lived every parent's worst nightmare when their preschool daughter was abducted. Riddled with guilt and hoping time apart would help them heal, Rena made the hardest decision of her life. But stunning news reunites her with Grant. Rosie has been found.Putting up a united front for their child's sake isn't as easy as they thought. Grant hasn't forgiven Rena for taking her eyes off Rosie for a few critical seconds. And Rena has yet to forgive herself. But their little girl needs them more than ever…