Keep Her Safe by K.A. Tucker: Noah is a good son and a really good man. He's strong, sexy, confident, and charming. Noah has had a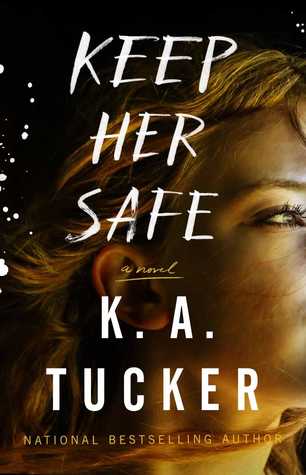 pretty good life, but it becomes a tangled mess when his mom unexpectedly commits suicide. In their last conversation, he's left lost, confused, and with a strong suspicion that his mom made bad choices in her climb to the top as the police chief.
Gracie has become the adult figure much too early in life. She's struggling to make ends meet for her and her drug-addicted mom as they eke out a living in a trailer park. It's a far cry from the life they lead before her dad was murdered and believed to be a corrupt cop. Through it all, she's tough, determined, and feisty.
Noah doesn't quite know how to move on after his mom's suicide. It was shocking act when he's left with so many questions about what happened all those years ago and what was happening more recently. Carrying out his mom's last request brings him to Gracie's door and the consequences of his mom's secrets and lies. She's not exactly welcoming, especially when Noah is cagey about why he suddenly arrived out of the blue.
"Please say you don't hate me." I offer her my best contrite face.
She rolls her eyes. "Stop that."
"Stop what?"
"Stop looking at me like that."
Noah and Gracie get off to a rough start and it doesn't help that Noah isn't exactly forthcoming. But Gracie's a force of nature and they begin the quest of trying to untangle the past to clear her father's name. They are left questioning who they can trust as they have more than one mystery to solve. Working together is also complicated by their attraction to each other. Gracie pushes and challenges Noah as he tries to protect her.
"Come on…How will I survive without you giving me grief?" I say it with a smile, so she knows I'm teasing.
She slides on a mask of calm indifference. "Hey, I didn't give you grief for playing a fool's price for that thing. And there's no way you're going to finish it before it goes bad."
Keep Her Safe is full of intrigue and suspense as the past and present collide. K. A. Tucker will keep you on the edge of your seat as you try to figure out how the puzzle pieces all fit together. Ms. Tucker created complex and interconnected characters. Fans of L.A. Fiore and Karin Slaughter will enjoy Keep Her Safe.

Book Info:

Publication: January 23rd 2018 | Atria Books |
Noah Marshall has had a privileged life thanks to his mother, the highly decorated chief of the Austin Police Department. But all that changes the night she reveals a skeleton that's been rattling in her closet for years: she doesn't deserve her commendations or her medals—in fact, she deserves to be locked behind bars for what she did to a fellow officer to save her own reputation. When she finally succumbs to the guilt of destroying an innocent family's life, she leaves Noah alone to carry the burden of this shocking secret, which she makes him vow never to share.
Gracie Reynolds wasn't born into trailer park life, but after ten years of learning how to survive in The Hollow, it's all she knows anymore. At least here people don't care that she is a byproduct of a white mother and a black father. And they certainly don't care that her dad was a corrupt Austin cop. Here, she and her mother can almost forget the shame he brought upon them…until a man who clearly doesn't belong shows up on her doorstep one night, asking questions.
Together, Noah and Gracie set out to uncover the truth about the Austin police department's dark and messy past­—but the scandal they uncover is bigger than they bargained for, and goes far higher up than they ever imagined.