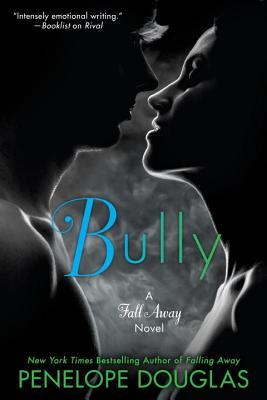 In Bully (Fall Away #1) by Penelope Douglas, Tatum 'Tate' Brandt was once best friends with the boy next door, Jared Trent. They did everything together and shared a connection she thought would never break. Then after he went away to visit his father for a couple of weeks on summer vacation just before high school, everything changed. Seeing Jared was no longer the best part of Tate's day. In fact, it became something of a nightmare.
'Jared indulged in my misery like it was candy. He had fed me to the wolves, time and again, reveling in the unhappiness he caused. Jared, my friend, was completely gone, leaving a cold monster in his place.'
Gone was the easy conversations and the feeling like they belonged together. Tate now feels like Jared wishes her dead sometimes. Between playing with her emotions and turning her into a social pariah, she doesn't know which way to turn. Then he changes the game. Just when Tate was feeling stronger after her year abroad in France, Jared starts treating her with care and almost tenderness. Much like the boy he used to be. But which is the real Jared? And how can she trust anything he does or says now?
His lips moved back over my cheek, inching closer to my mouth.
"I want to touch you." His words were against my lips now. "I want to feel what's mine. What's always been mine."
What a complex story Bully was. Told from our heroine Tate's POV, this followed her as she tried to make sense of how her relationship with her former best friend Jared morphed into him emotionally tormenting and bullying her seemingly out of the blue.
While I loved Penelope Douglas's writing style–seriously, I devoured this book–I have mixed emotions about Bully. Especially when it came to Jared. I'll start off saying that I thoroughly enjoyed Tate and thought she was a great character. I could empathize with her situation. I could understand where she was coming from emotionally and for the most part understood her decisions. Tate was very strong, even in her worst moments, and I thought it was a nice character portrayal for the New Adult genre.
But Jared. Boy, even after learning the reason why he acted the way he did, I couldn't rationalize it in my head. Maybe it's because it was the decision of a teenage boy and obviously I wouldn't have a connection with him like I did with Tate. As things began to turn romantic between Jared and Tate, though, I did feel like that progression was fairly realistic. I liked them together as a couple and thought they had some fun and very electric moments together. That part of their relationship was a joy to read about.
I'll let readers make up their mind and form their own opinions on Bully. Even with the love/hate relationship I seemed to have with Jared, I am glad that the release of this novel in paperback put it on my radar (it originally came out in 2013). You can bet I will be continuing to follow this series, especially the next book which is from Jared's POV. Maybe then I'll understand him better.
Book Info:

 Published January 5th 2016 (first published June 17th 2013) | by NAL | Fall Away #1
My name is Tate. He doesn't call me that, though. He would never refer to me so informally, if he referred to me at all. No, he'll barely even speak to me.
But he still won't leave me alone.
We were best friends once. Then he turned on me and made it his mission to ruin my life. I've been humiliated, shut out, and gossiped about all through high school. His pranks and rumors got more sadistic as time wore on, and I made myself sick trying to stay out of his way. I even went to France for a year, just to avoid him.
But I'm done hiding from him now, and there's no way in hell I'll allow him to ruin my senior year. He might not have changed, but I have. It's time to fight back.
I'm not going to let him bully me anymore.
***This novel contains adult/mature young adult situations. It is only suitable for ages 18+ due to language, violence, and sexual situations.