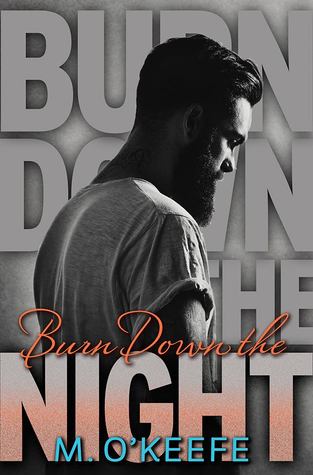 In Burn Down the Night (Everything I Left Unsaid #3) by M. O'Keefe, Okay, so Joan knows her plan of blowing up the local strip club to get information about her sister from a drug-dealing-cult-leading loser is a long shot, but it's the only plan she has. And time is running out to save Jennifer. Things get a little crazy when she puts her plan in motion and Joan somehow ends up taking local MC president Max Daniels as her prisoner after he gets shot outside the bar, having already messed with her mission. But Max has a connection to the only guy who knows where her sister is and she'll be damned if she'll let him out of her sight.
"God save me from crazy bitches," Max muttered. He put his arm across my back and lifted me. I still fought him. I wanted to burn down the night.
"You ruined everything!" I screamed and smacked at him with my head heavy hands.
On the run from the cops, the remaining MC members, and a drug dealer with a God complex, Joan and Max head to Florida to get him some medical help and to lay low and form a new plan. It becomes clear right away, though, that the tension that's always been between them isn't going away anytime soon. And being cooped up together in a condo with nowhere else to go might lead to too much temptation for Max or Joan to resist.
"Save your act for other people. The lies and the show–I don't want it. I want you. Fucked up and crazy. I want you."
It was poetry. It was the sweetest thing anyone had said to me in a long time, and I had him handcuffed to a bed.
Something about Joan has called out to Max since the first time he saw her and now he knows that it's because they've lived the same kind of messed up life. People like them hardly ever get to go clean and get a second chance to make things right. But that's kind of where Max is at the moment. He can make a new life for himself but he wants to make sure Joan has the same chance. And that's where it gets complicated. But he's willing to do anything to see her finally have some good in her life. Even if it means Max has to give up on his own dreams.
"You and me are so alike," he said. "Everything is either-or. It's one or the other. Us or them. Sacrificing ourselves for our family because that's all we have to give up. But I'm not giving you up, Joan. Not yet. And you're not alone. That's my promise. You are not alone."
Insanely. Good. Burn Down the Night was a nonstop, action-packed hot mess with two badass characters and one impossible situation. Talk about a page-turner! I think I held my breath the entire time I was reading until the very final page when I knew all was well.
'I had been here before. More times than I could count… With a gun in the back of my pants, waiting to shoot or be shot.
These were the minutes before someone died–and I knew them well.'
Wow. Molly O'Keefe has proven her writing ability over and over with this series. She's become one of my go-to authors when I want romance with a dark edge but tons of heat and chemistry between the main characters. And this sizzling combination of Max and Joan worked on so many levels. They both came from very troubled beginnings with the odds stacked against them from day one–in their day-to-day lives and their relationship together–so they understood each other's special kind of crazy. I thought Max and Joan were also kind of misunderstood by a lot of people, being taken at face value without people seeing how genuine they were underneath the swagger and attitude.
I guess you could say that neither Joan nor Max were actually really 'good' people as they'd had to do things that were not always legal or moral. I mean, Max was an MC president and a criminal who had dodged trouble all his life, and Joan was a stripper who used to run cons and ended up blowing up the local strip club with a bomb. But I couldn't help but like them anyway and I could understand why they were driven to make the choices they made. I think what helped make them likable was that Max and Joan truly wanted to do better and to go clean while making sure their loved ones were okay. It was the life they were tied into and the situations they found themselves in that made it tough to get free from it all. Kind of a vicious cycle, which given their pasts, was understandable.
The connection between Joan and Max was incredible. Not only did they understand each other on a basic human level, but they also knew that they would combust physically if they ever got together. Given that these two already liked to live wild and dangerous, it goes without saying that the sexy-time scenes were off-the-charts hot and dirty. And honestly, kind of angry, so it might not work for all readers. I actually thought it fit their personalities perfectly and that O'Keefe did a great job as always making the scenes seem realistic.
Burn Down the Night was as crazy and sexy as I was hoping it would be from meeting Joan and Max in previous installments. If you're new to the series, though, don't worry. You can read this as a standalone and it will still totally captivate you. Highly recommended!
Book Info:

 Published August 9th 2016 | by Loveswept | Everything I Left Unsaid #3
A battle for control turns explosive as a beautiful con woman takes a bad-boy biker hostage in this edgy, seductive novel set in the world of Everything I Left Unsaid ("Toe-curlingly sensual."—Katy Evans) and The Truth About Him ("Absolutely one-click worthy"—J. Kenner).
The only thing that matters to me is rescuing my sister from the drug-cooking cult that once enslaved us both. I've run cons my whole life, and I'll use my body to get whatever I need. Max Daniels is the last connection I have to that world, the one person reckless enough to get involved. Besides, now that his brothers have turned on him, he needs me too.
The deal was supposed to be simple: a place to hide in exchange for rescuing my sister. Now he's my prisoner. Totally at my mercy. But I'm the one captivated. Enthralled. Doing everything he asks of me until I'm not sure who's in control.
We both crave the heat. The more it hurts, the better. But what if Max wants a different life now, to leave the game . . . to love me? I thought I knew better than to get burned. Now I'm in too deep to pull away. And the crazy thing is . . . I don't want to.