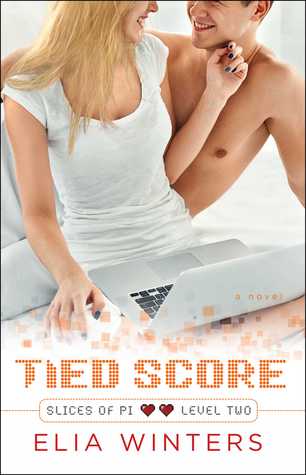 Tied Score by Elia Winters: Owen loves to bake and runs the very successful Sugar Shack. He can be a bit of a demanding perfectionist with an obsession for punctuality. He's also a bit of a control freak, since he can't quite manage to take his own days off and refuses to let his very competent employees take more responsibility.
Iris is a great HR manager at PI Games, but it's not the most exciting career. She loves that she can make great use of her organizational skills, but she wonders if she could have been successful pursuing her love of art and drawing. Iris has a sweet tooth and a love of all things Sugar Shack. She also has a bit a thing for the sexy owner, even though he rarely interacts with his customers. Finally, Iris has an opening and she lets her interest be known.
"Suave? You think I'm suave?" He sat up straighter on the couch, grinning, and Iris actually turned pink.
"Shut up." She shoved him affectionately. "I'm just trying to figure you out."
Iris isn't looking for a relationship, which suits Owen since he doesn't really have time for one either. Owen also finds that his relationships tend to fall apart since he has very specific needs and desires. While Iris is surprised by Owen's fantasies given his personality, she finds herself intrigued. They agree on a fling with they can act out his deepest fantasies. Before long they find that their fling is becoming much more than either expected as they also push each other. They have great chemistry and find really enjoy spending time together.
She didn't open her eyes but shifted to get more comfortable. "Where'd you learn this?"
"I bake a lot of bread."
Iris's back twitched with her laughter. "So you're treating me like a loaf of bread?" She blinked one eye open, peering up at him through heavy lashes.
"Yup. My little Iris loaf."
Tied Score is a fun, sexy, adventurous story. Elia Winters created an interesting dynamic that shifted as the characters developed. Ms. Winters created a story about exploring new territory and discovering yourself. Tied Score can be read as a standalone in the Slices of Pi series. Fans of Lydia Michaels and Jessica Clare will enjoy Tied Score.
Book Info:

Expected publication: August 15th 2016 | Pocket Star | Slices of Pi #2
Geeky meets kinky in this second too-hot-to-handle novel in the Slices of Pi series by RITA-nominated author Elia Winters, which follows the erotic adventures of the employees at PI Games, a gaming company based out of sultry Florida.
Iris Parker never planned on ending up in HR because, let's face it: HR isn't the most glamorous position in the world. She took a comfortable job and always planned on leaving when something better came along, but before she knows it, she's thirty and the HR director for PI Games. Even though she likes her coworkers, there's no excitement in the job for her, and Iris is worried that she'll lose her spark. Luckily, Iris's romantic life provides some thrills—living the confirmed bachelor life, when she wants her bed warm, she can find company, and in her sights at the moment is the cute pastry chef at her favorite bakery.
Owen Hobbs has noticed the gorgeous businesswoman making eyes at him when she comes in for coffee and sweets, but he's not the type of guy who dates much anymore. Unfortunately for him, it didn't take long in his sporadic dating history to learn that most women aren't interested in taking charge in bed, which is what he really craves. Working early mornings at the bakery keeps him from the nightlife where he might meet someone who can fulfill his needs, so he's resigned himself to fantasies and pretty much given up on the dating scene altogether. But when Iris's advances become too much to resist, Owen finds himself revealing his desire to be sexually dominated…the only question is, is she the right woman for the job?